Category: Property Management
Now that homes in Seattle have appreciated in value, is it better to sell or rent out your property?
Most US states have seen a rise in home prices. Further appreciation will come over the next year according to the REALTORS Confidence Index Report released in April 2014. The nation is expected to see property values further increase by a median of 4%. This trend provides homeowners looking to downsize or upgrade the opportunity to keep their current property as an investment.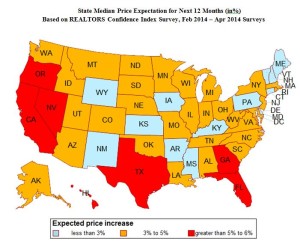 In fact, the recent home price increases have made it harder to buy a house which has made the rental market go crazy. Rents are increasing and vacancy is decreasing. Choosing to turn your property into a profitable rental is more viable than ever before.
What caused this spike in appreciation?
Mark Ferguson, a successful Northern Colorado real estate broker and rental home investor, commented, "In my market we have almost no inventory. Last year we had 1,500 homes for sale and now we have 300… There simply are not enough lower priced homes for the current buyer demand. That demand is continuing to push prices higher." As home prices rise, more people opt to rent. In turn, this increases the viability of profitable rental properties.
What caused the lower inventory of homes?
One factor was little to no new home construction. Construction of new homes has not kept pace with the post-crisis recovery. With lack of additional inventory entering the housing pool and the population increasing, the market is in short supply, driving demand and prices. Though we have seen a resurgence in new construction in parts of the country, there still remains a huge demand for more affordable housing.
How does this affect property owners or investors?
Ferguson continues to explain, "The great thing about real estate is if you already own property, inflation is not a bad thing. Your rents and values will most likely increase and your payments stay the same. The downside is that its more expensive to buy property, but if the rents are rising as well, you should still be able to make the same amount of margin."
How are property managers partners in this process?
We're obviously biased. We believe that a professional property manager can help you save money and time by avoiding costly mistakes. Give us a call at 877-215-9182 or browse a list of our favorite property managers online!
We hope this article was helpful! Thanks for reading.
– The All Property Management Team
Find a Local Property Manager
Search our favorites
or call 877-215-9182
For property managers, collecting rent in a timely manner is a way of life. Whether you have the ideal tenant who submits the full amount on time or the tenant who needs monthly reminding to pay, a property manager is responsible for making sure payments are submitted. PocketRent is property management software that simplifies rent collection. Tenants submit their payments and PocketRent will track payments and notify property managers when rent is not paid. We spoke with Mark Huser, from PocketRent to learn more.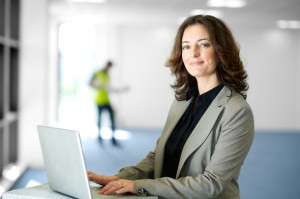 APM: Describe your product and describe its function?
Mark: PocketRent is all about spending less time managing your properties with our efficient tools to streamline your workflow and get the best return from your rental investments. The main features within this system are:
PocketRent integrates directly with Xero, automatically reconciling invoices, matching payments as well as adding payments and expenses. Our clients experience the easiest end of-the-year reporting.
Track tenant payments automatically
Property managers can be assured that their tenants are making their payments in full and on time. If a rent payment is missed, PocketRent will automatically send you and your tenants an email.
Create your own automated forms
PocketRent generates pre-populated tenancy contracts. All you need to do is sign it.
Streamline communications
Emails are sent to tenants directly and stored in PocketRent for easy retrieval.
Maintenance issues, inspection times, contract details, and their payment records can be viewed by tenants who log on to our secure tenants' area.
Set up and store inspection paperwork and add photos or comments with our stunningly effective iOS App.
It takes mere minutes to set up each property – you'll be up and running in no time!
Metrics & reporting with depth
Quickly see at a glance the health of your property portfolio and click straight through to detailed performance reports.
All you need in one place
You won't lose another agreement again – store all your signed tenancy agreements, bond lodgement forms and compliance certificates or any other documents associated with buildings, units, properties and tenancies.
APM: What made you develop your product?
Mark: Six of us (founders/directors) thought that managing your own property shouldn't be so complicated to do yourself, and not as expensive for a property manager to do so on your behalf. Furthermore, it should be tightly integrated with accounting software to make the end- of -year process more efficient and accurate. Between all of us, we have broad experience of the pain points across residential and commercial properties, tech experience and business management. Once we started we immediately created a list of a minimum feature-set, and got to work. We've since moved beyond the "I want to manage my own properties" market onto property managers, but we retain the basic premise of increasing efficiency in the tenancy, maintenance and cash-flow management processes.
APM: What makes your product stand out?
Mark: The amount of time you can save makes us stand out. Once PocketRent is set up, it's everything you need to store and access documentation, automatically track rent payments and expenses and streamline the maintenance workflow with your preferred tradespeople and suppliers.
APM: For property managers who do not have a lot of time to differentiate between products, why does your product stand out from the competition?
Mark: PocketRent saves time and errors.
APM: Describe a memorable moment with a customer and what they said about your product?
Mark: When closing her account, one of our customers was deeply disappointed that due to selling her property portfolio she would no longer be able to use PocketRent. She literally said, "It is an awesome service, easy to use and simple to navigate. It takes the hassle out of managing properties, payments and paperwork – a superb idea that's made our lives easier!" Of course, the purchaser of her properties created an account.
APM: Pick a specific feature of the product and tell me why this feature stands out to you and your own experience with it.
Mark: My favorite PocketRent feature is the automatic tenancy agreement generation. Two clicks gives a comprehensive legal agreement (which is fully customizable via our template engine) pre-filled with property details, payment requirements, responsibilities and tenant/manager/landlord details. It's a massive time-saver and great peace of mind since PocketRent calculates rent amounts required based on time periods and won't ever forget to pre-fill important elements such as chattels.
APM: If we talked to your top three customers, how would they describe your product?
Mark: Easy to use, saves them lots of time and money and reduces errors.
APM: Is there anything else you would like your customers to know?
Mark: It's free for one month with any number of properties and free forever for a single property. We love our customers and want to get them started as quickly as possible – we'll load all your properties in the system for free (initial setup) so that you can get up and running quickly. We'd also like to offer a special deal to your readers – 25% off our standard pricing forever if using the promo code "AllPropertyManagement" when signing up or directly follow this link.
To Sum It Up!
PocketRent is property management software with the capability to monitor tenant payments to ensure that payments are made in full and on time. Property managers can focus on other daily tasks and allow PocketRent to track their payments for them.
Like this article? Check out other similar articles with information on technology resources on our Property Management Tech Tools Reviews Page!
In this digital world, where information can be accessed quickly and at any time, managing your online reputation as a property management company is critical. Learning how to access this information and keep it updated in a timely manner however, can be difficult if you do not know where to begin. The property management software, Yardi Voyager, provides a reputation management feature. In addition, property managers can utilize the online leasing and resident services and property marketing sites. We spoke with Brad Setser, VP of Marketing, to learn more.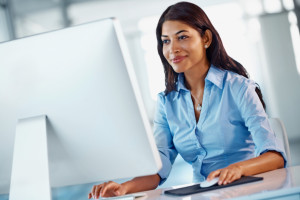 APM: Please describe the product and its function.
Brad: Yardi Voyager is our flagship property management and accounting platform. Voyager, plus a suite of complementary products, creates a full real estate management solution-operations, accounting and ancillary processes and services with portfolio-wide business intelligence and platform-wide mobility-for all types of real estate. We recently launched the latest version of Yardi Voyager, called Yardi Voyager 7S. One of the most significant aspects of 7S is that it's browser-agnostic, which means the entire program can be run from any mobile device as easily as from a desktop. All new Voyager clients adopt 7S and we're upgrading our existing clients.
APM: What made you develop your product?
Brad: We know that many people conduct much of their business, personal as well as work-related, on the go.We responded by developing Voyager 7S to help our clients meet the mobile expectations of their residents, tenants and investors. We wanted to make Voyager a one-stop solution where users can conduct all marketing, leasing and property maintenance operations from any mobile device. This accessibility helps our clients attract tenants and residents, retain them with convenient online services, perform maintenance, procurement and other operations more efficiently, and satisfy investors and owners with complete transparency.
APM: For property managers who do not have a lot of time to differentiate between products, why does your product stand out from the competition?
Brad: With Voyager, commercial and multifamily property managers can integrate all front- office and back office systems into a holistic "single stack" system that any user can access from one source, quickly and efficiently. The system is integrated properly and interfacing is not necessary, and efficiency is gained because all information is in one place and easily accessed. For example, property availability, recorded in Voyager, is listed immediately on a property marketing site. A host of ancillary products-such as lead tracking, materials procurement, budgeting, online resident services, revenue management, utility billing management and others- can be rolled out faster and cheaper without interfaces or custom software. Furthermore, comprehensive business intelligence comes faster and easier because compilation of a portfolio's worth of information is automated.
APM: Describe a memorable moment with a customer and what they said about the product.
Brad: One client, Encore Enterprises Inc., is a REIT with a mixed portfolio. Their CFO and COO recently said, "Voyager is the only solution that combines our entire portfolio into one version of the truth. It satisfies all of our vertical market management obligations." That pretty well sums up what we're trying to accomplish.
APM: Pick a specific feature of the product and tell me why this feature stands out to you and your own experience with it.
Brad: I'll pick RENTCafe, our full online leasing and resident services solution, because it encompasses all the mobility, efficiency and client service elements that I've discussed so far. Residents see available apartment units, floor plans, apply online- including getting screened- and complete the leasing process, including lease execution and signing up for renters insurance. A resident portal lets residents pay rent, submit maintenance requests and renew their leases. Most notably, social media tools enable reputation management and residential referral programs, and there is a fully functional Facebook property site in which all of this can be done right in Facebook. Of course all of this can be done from a tablet or smartphone. One client said that when marketing point solution vendors tell her about their great new mobile product, she replied, I already have a great mobile product, a great way for people to get on their smartphones and use our services, so I don't need that. All this adds up to higher occupancy and satisfied residents.
APM: If we talked to your top three customers, how would they describe your product?
Brad: The common thread across any survey of our client base-and we serve organizations of all sizes in the public, private and nonprofit sectors-is that our products help them increase their revenues and NOI, increase efficiency and improve service. One commercial client spoke of using our products to expand into new markets, win contracts and earn industry awards. Another commercial property owner credited us for cutting one-third of the time needed to prepare 10-year cash flow projections for their 200-property portfolio. Per-invoice processing costs dropped by 60% for another client thanks to our automated procure to pay solution. Multifamily property management companies report an average 2-5% revenue increase over market with our revenue management product. These are the outcomes we strive for with our product development and client service efforts.
To Sum It Up!
Yardi Voyager is property management software with several built-in features providing property managers the ability to streamline all their day-to-day tasks. Property managers can access their information from any location, and use features like the online reputation management system to track and manage apartment reviews and comments.
Like this article? Check out other similar articles with information on technology resources on our Property Management Tech Tools Page!