Contacting Property Manager...
Birdy Properties, CRMC

18830 Stone Oak Parkway
San Antonio, TX 78258

Types of Properties We Manage:

- Single Home/condo (up to $300K)
- Single Home/condo ($300 to $500K)
- Single Home/condo ($500K to $1M)
- Single Home/condo (over $1M)
- Multi-Family (2-4 units)
- Multi-Family (5 -19 units)
- Multi-Family (20-99 units)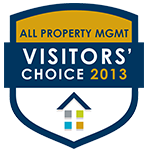 Property Management...
...at its best!
Whether your home was purchased as a homestead or as an investment, Birdy Properties, CRMC has over 33 years of first-hand knowledge and the experience to manage your investment.
We are a family owned and family run (third generation) property management company started in February 1979 by Barry Birdy (Ret. USAF CMSgt). We still run this company the way our Pop taught us, "Take care of the home like it was your own."
As active members of the National Association of Residential Property Managers (NARPM), we currently manage over 900 properties in the San Antonio metropolitan area and seven surrounding counties.
From marketing to maintenance, we provide unmatched, quality services to manage your property.
Our properties rent from $400 to $4,000 a month, and consist of: single family homes, condos, town homes, multi-unit (duplex, quads, apartment complexes), and small ranches. We are actively looking to add new properties no matter the size of your investment portfolio.
Features Overview
Marketing
A proven advertising and marketing campaign to include but not limited to:
FOR RENT
Birdy Properties, CRMC sign and lockbox placed on property within 24 hours.
BIRDY PROPERTIES WEBSITE
Our company website that has all of our current active properties for rent and receives thousands of hits each week.
SAN ANTONIO BOARD OF REALTORS
San Antonio Board of REALTORS Multiple Listing Service (MLS) reaching over 6000 agents daily, also feeds to many other sites.
CENTRAL TEXAS MLS
New Braunfels & Canyon Lake Board of REALTORS Multiple Listing Service (MLS) reaching agents in Comal, Gonzales, Guadalupe, Hays and surrounding counties.
RENTAL HOMES PLUS
The number one online source for single family rentals, apartments and houses for rent that also feeds to 14 other sites.
AHRN
Automated Housing Referral Network used to assist all incoming active duty military and Department of Defense personnel find rental property.
Accounting
We have a complete accounting department with Educated and Licensed Team Members who will provide the following services:
Collection of all rents
Disburse proceeds electronically
Monthly accounting statement sent via email
End of year reporting
Provide IRS Form 1099 for taxes
Maintenance
To provide quality, faster, discounted service we operate our own maintenance company with honest, reliable, and professional individuals with years of experience who will provide the following services:
Bi-Annual detailed reviews inside and outside of property
Update owners on maintenance issues and property condition
Make all needed repairs whether minor or emergency
Handle Tenant repair requests
Complete final walk out "Make Ready" repair
Application Process
After receiving an application from a prospective Tenant, all applications are screened through:
National Tenant Network (NTN)
Credit Report and History
National Eviction Reports
Tenant Performance Reports
Public Records/Judgments
Sexual Predator/Terrorist databases
Rental history check
Employment verification
Lease Agreements
When a Tenant is approved, we use the Texas Association of REALTORS Residential Lease Agreement which provides the following:
Defines the Term of the Lease
Lists the Tenant's Responsibilities
Includes Pet Agreement, Inventory and Condition Form
What the Rent and Security Deposit will be
Landlord's Rules and Regulations
Staffing
We currently have a staff of over 25 team members to provide the best Property Management services available. Our Family of Team Members have over 100 years of Industry Experience. Our Team Members include:
Broker/Owner
Business Development Manager
Business Operations Manager
Accounting Manager

Tenant Accounting Coordinator
Owner Accounting Coordinator

Coordination Manager

Owner Coordinator
Tenant Coordinator
Coordination Assistant

Maintenance Manager

Maintenance Coordinators
Maintenance Administrative Assistants
Maintenance Technicians
Reception Staff
Education & Achievements
Here at Birdy Properties, CRMC we strive for excellence and continue to educate ourselves to help achieve that goal, each of our Team Members are candidates for National Designations and are in the process of completing one of the following designations:
Master Property Manager (MPM)
Residential Management Professional (RMP)
Certified Support Specialist (CSS)
"Lead by Example"
Brian Birdy, MPM, RMP (Broker/Owner)
Master Property Manager (MPM)
Residential Management Professional (RMP)
National Association of Residential Property Managers (NARPM) San Antonio Local Chapter:

Treasurer 2008
Vice President - 2009
President 2010
Past President - 2011

NARPM National Chairman Professional Development Committee: 2011 Present
NARPM Approved Conference Speaker
San Antonio Board of REALTORS Approved Instructor:

Currently Teaching:

Texas Property Code
Property Management Policy & Procedure

Currently Writing:

Texas Association of REALTORS
Property Management Agreement & Addendums

Texas Real Estate Commission (TREC) Approved Instructor
TREC Approved Property Management Instructor
TREC Approved Property Management BROKER