Contacting Property Manager...
DWM Property Management

411A Highland Ave
Suite 322
Somerville, MA 02144

Types of Properties We Manage:

- Single Home/condo (up to $300K)
- Single Home/condo ($300 to $500K)
- Single Home/condo ($500K to $1M)
- Single Home/condo (over $1M)
- HOA (2 - 49 units)
- HOA (50 - 99 units)
- COA (2 - 49 units)
- COA (50 - 99 units)
- Multi-Family (5 -19 units)
- Multi-Family (20-99 units)
- Retail (Up to 9,999 sqft)

DWM Property Management is a local, family-owned business specializing in managing condo associations, multi-family, and single-family homes in Somerville, Cambridge, Arlington, Medford, Belmont and Watertown. Since 2012, David W. Mooney and his team of professionals continue to grow their portfolio of condo associations and landlords by providing outstanding service.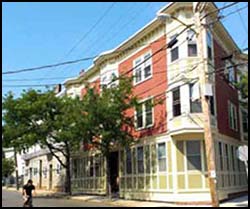 "DWM was the 2nd property management company used by our 12-unit condo building in Somerville. David was a superman when it came to responsiveness, diligent about seeking quotes, overseeing work, and managing paperwork (taxes, permits, condo minutes). They are reliable and trustworthy…night and day different from our previous management company. I can't recommend him highly enough." – Condo Association, Somerville
"I am pleased to recommend DWM Property Management. Living out of state, I need somebody whom I can trust and rely on to look after my property. I know that with David managing the property, it is in safe and reliable hands and I can rest assured that my tenants are being well looked after." – Landlord
What makes us different?
We stay local to Somerville, Cambridge, Arlington, Medford, Belmont and Watertown. We do not dilute our efforts by going to areas we do not know well.
We do not waste your money; we treat each property as if we were the owner to assess the critical nature of the situation, keeping in mind the owner's expense burden.
We are responsive; we believe responsive service yields better relationships with all constituents, ultimately reducing overall costs. We typically respond within the hour to maintenance requests and utilize a 24 x 7 phone line for emergencies.
We are up to date with technology, utilizing state-of-art communication tools (email, texting, 24x7 phone service) and property management tools including an online portal for tenants and condo-owners to submit maintenance requests. Our online portal also hosts monthly financial information for condo associations to review.
Our price is right; our costs are reasonable because we stay local and maintain low overhead, passing the savings to landlords and condo-owners.
Condo Associations: DWM has a portfolio of small-to-mid size condominium associations, whom we are happy to share as references. Our condo association services include i) collection of dues, including special assessments, using automated technology ii) payment of monthly expenses iii) monthly financial reporting and budgeting, shared through the online portal iv) attendance at board meetings and v) enforcement of policies including delinquency follow-up and lien filings.
Multifamily Rentals: DWM also has a large portfolio of rental property it manages from single units to large multi-family buildings. Our staff is capable of handling the full suite of property management services for landlords from tenant screening and placement to repairs and renovations of existing units. We are happy to share multiple references of happy landlord clients.
Our property management services include:
Bookkeeping services
Rent collection
Escrow account management
Collection of condo dues
Property taxes
Mortgage payments
Property insurance payments
Preparation of lease renewal and cover letter
24-hour emergency on-call service
Oversight of property improvements (as needed)
Contractor selection, coordination, contract preparation, and job site
supervision for contracted services and routine maintenance
Maintenance of tenant database, including tenant and maintenance issues
Property inspections