Contacting Property Manager...
Northern Virginia Property Management
7514 Rolling Road
Springfield, VA 22153
Types of Properties We Manage:
- Single Home/condo (up to $300K)
- Single Home/condo ($300 to $500K)
- Single Home/condo ($500K to $1M)
- Single Home/condo (over $1M)
- Multi-Family (5 -19 units)
- Multi-Family (20-99 units)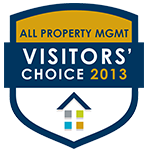 Welcome to Northern Virginia Property Management.
Northern Virginia Property Management (NVPM) offers professional management services throughout Northern Virginia, Maryland and Washington D.C.
Our Mission
Our mission is to develop long lasting relationships by providing quality management with the highest level of integrity and professionalism.
Property Management Overview
Over the past 15 years, Northern Virginia Property Management (NVPM) has earned a reputation of providing quality property management services. Our excellent knowledge of the local market as well as our property management experience allow us to quickly and professionally respond to our clients needs.
Our services include the financial marketing and maintenance needs of your property. NVPM is skilled in providing operational plans and realistic capital budgets. In addtion, we work with a variety of vendors to ensure that properties receive the very best service at favorable prices.
What this means to you, the property owner is simple. You will receive spendable income from your investment property each month. Simply put, NVPM will rent your home to the best tenant possible, charging a premium to live in your investment property. Then if you chose, I will pay the mortgage, condo/association fees, management fee and send to you each month a very nice return on your investment.
Our goal is to maintain and increase the value of real estate assets.
Client Services
Traditional Services
Comprehensive initial inspection of your asset/investment property.
Maintenance and marketing suggestions to attract qualified tenants.
Marketing comparables, in order to obtain market value rents for your property.
Investment vision and financial recommendations to "Move you to the next investor level".
Thorough reference verification and qualification review of all applicants.
Lease preparation. Every rental situation is different, you'll need a customized lease to protect your investment.
Monitor lease renewals ninety days out and send notices to you, the Landlord, of a lease ending event.
Computerized monthly statements of owner accounts.
Emergency twenty four hour services to tenants.
Move in, quarterly, and move out inspections. There should be no surprises concerning unit damage to an owner.
Maintenance and repair with owner input first.
Monthly Statement
On a monthly basis, owners will receive rental income and a property statement. The property statement keeps the property owner up-to-date on their investment. The property statement is an easy to read, valuable, time saving tool. At a glance, property owner's can see the �year in review,� thus making tax time less frustrating. All expenses, management fees, association dues, upgrades and rents are tracked on a monthly and yearly basis. .
The property statement details the day of the month that the tenant paid the rents on, e.g., payments received on the first, second, fourth day of the month. Tenant's payment history is tracked throughout the year. This provides the property owner a valuable tool when lease renewal time comes up. The property owner will have a profile as to the timeliness of tenant rent payments.
Tenant comments and requests are included in the property statement. This provides the tenant access to the owner without directly talking to the owner. In my experience, whenever a tenant sees a property owner, the tenant will ask the property owner for a costly upgrade. The Comments section provides the property owner a buffer of sorts and gives the owner time to consider the request.
Lastly, on the property statement is the Manager's Comments. This is where the property manager lets the property owner know of any pending issues, i.e., lease renewals, pending repairs, or suggested improvement to the property. The monthly statement also enables me to keep an eye on operating costs.