Contacting Property Manager...
Worth Clark Realty
300 Chesterfield Center #205
Chesterfield, MO 63017
Types of Properties We Manage:
- Single Home/condo (up to $300K)
- Single Home/condo ($300 to $500K)
- Multi-Family (2-4 units)
- Multi-Family (5 -19 units)
About Worth Clark Realty
Worth Clark Realty offers value-driven leasing, property management, and sales services to Kansas and Missouri homeowners. Unlike other brokerages, Worth Clark provides clients many services and options when it comes to leasing, managing and selling properties. We provide customer service that is second to that's absolutely second to none, and one of the only companies that provides a quality assurance guarantee to stand behind the service we provide to you.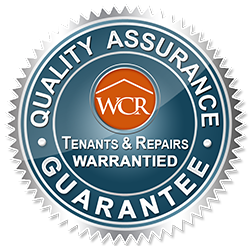 We are 100% committed to finding the best tenants, and maintaining your property as if it were our own. Dependability, honesty, and responsiveness are the core traits our leasing and property management staff.
Company Highlights:
#1 Residential Leasing Company in Missouri - Worth Clark has leased more properties in St. Louis alone, than any other brokerage in Missouri.
5 Star average review on Google and Customer Lobby!
BBB Accredited with an A+ Rating!
Full service real estate brokerage with over 130 sales agents, ready and able to sell your home as well!
What Really Sets Us Apart? Here are a few things WCR introduced to St. Louis:
FREE Tenant Warranty - Free warranty for the tenants we place, as a way to back up our rigorous RevealALL™ tenant screening process.
FREE Repair Warranty - Free warranty for any repair authorized by Worth Clark Realty. If the repair is not corrected on the first trip, you will not have to pay for multiple trips for the same repair.
Eviction Cost Protection - In the event of an eviction, we can cover up to $1000 of legal and court costs.
Rent Loss Protection - Receive monthly rent in the event a tenant is evicted to fill the gap in finding a new one.
Tenant Placement Program
FREE, no obligation rental pricing analysis.
Property showcased on Realtor.com, Zillow, and Trulia.
Property marketed on 280+ additional websites.
No advertising fees - only pay when we perform.
RevealALL™ Tenant Screening Process, with FREE tenant warranty.
Rent-to-Own options.
Dedicated Account Executive available to show your property 7 days a week.
Professional Property Management
Our CollectALL™ rent collection service provides 6 ways for tenants to pay.
FREE direct deposit of rents to your bank account.
Enforcement of lease provisions and state regulations.
No setup fees, vacancy fees, or any other hidden fees.
No markup on maintenance costs, discounts with vendors, and FREE repair warranty.
Flat fee structure, starting at $55/mo.
Testimonials
Worth Clark has been hands down the best property management company I've used. They are professional, responsive, and organized. They know everything that needs to be done to get the house ready to be leased, and they clearly communicate anything that is required to be done on the part of the owner. But honestly, there's not much the owner has to do! They take care of almost everything, which is great for the owner, and they do it in a positive and professional manner.
- Kayln G., Ballwin, MO. - 2/26/15
This is our 1st experience with a property management service and we are thoroughly pleased with everything so far. Our agent Kevin has been very helpful with explaining every step in the process. Kevin proactively advised and directed us with advice to avoid potential roadblocks and has been accessible and prompt to respond to our questions and concerns. Thank you Worth Clark for giving us peace of mind.
- Brian C. St. Louis, MO - 5/1/15
The Worth Clark staff were extremely helpful and informative. Commitments were made and KEPT.
- DJ V. Fenton, MO - 6/6/15