Apartment Disappointment Solutions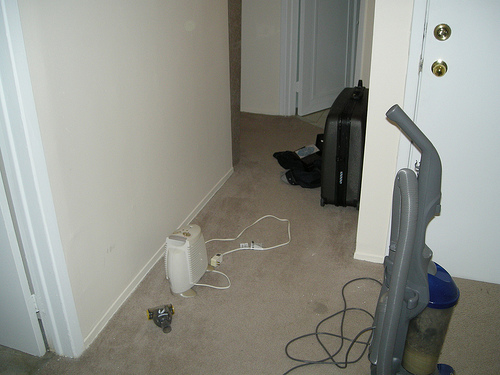 photo credit: Sweet One


If you're moving in to a new property and realize on moving day that it's not all that was promised you do have some remedies, depending on the situation.


If the landlord promised a clean apartment and you wind up with a filthy mess you might be able to deduct the cleaning expense from your rent. It's not an ideal situation obviously, but it's not necessarily a reason to delay the move. Document the conditions when you arrived and then either get a receipt from the cleaning service or keep track of the supplies you purchase to do the job yourself and keep track of your hours. Document this amount and give your landlord an itemized record with your rent check, minus your expenses.

If there is concern about possible lead paint, uncovered electric outlets, or other potential hazards you should contact the landlord immediately and remind them of their promise to fix these issues. If the landlord doesn't respond or comply with your requests you can report them to your local health department and you should contact a tenant's advocacy center. With the help of these agencies you should be able to get the situation cleared up pretty quickly.

If there is a major problem that is preventing you from moving into the apartment you can break the lease with documented proof of the problem. But if you've already vacated your previous residence this can be a difficult or impossible choice; immediately contact a tenant's advocacy group and find out what remedies they suggest for your region.
Find Property Managers Near You
Select Property Type
Single Home or Condo (Valued up to $300K)

Single Home or Condo ($300K to $500K)

Single Home or Condo ($500K to $1 Million)

Single Home or Condo (Over $1 Million)

Multi-Family (2-4 units)

Multi-Family (5-19 units)

Multi-Family (20-99 units)

Multi-Family (100+ units)

Homeowners Association (2-49 units)

Homeowners Association (50-99 units)

Homeowners Association (100+ units)

Condominium Association (2-49 units)

Condominium Association (50-99 units)

Condominium Association (100+ units)

Retail (Up to 9,999 sqft)

Retail (10,000 - 100,000 sqft)

Retail (100,000+ sqft)

Office (Up to 9,999 sqft)

Office (10,000 - 100,000 sqft)

Office (100,000+ sqft)

Warehouse/Distribution (Up to 100,000 sqft)

Warehouse/Distribution (100,000+ sqft)

Light Manufacturing (Up to 100,000 sqft)

Light Manufacturing (100,000+ sqft)

Parking Garage

Biotech/Mission-Critical

Vacation (1-2 units)

Vacation (3+ units)

Other Associations (Hotel, Resort etc.)

Mobile Home Community