The Current Real Estate Market in San Francisco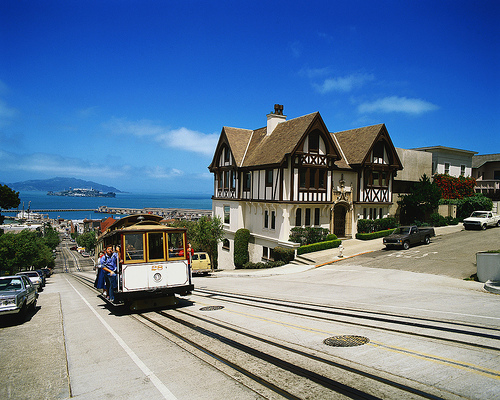 photo credit: Smart Destinations
It is the dream of many to own a piece of real estate in San Francisco. The area by the Bay, San Fran or Frisco as many refer to it, has so much charm and a great history. It?s known for not only being diverse but a have for artists and those with novel ideas, be they in the area of technology or architecture. San Francisco?s is also known for having some of the most expensive real estate in the whole of the country. So how is the area doing in this time of real estate uncertainty and after the housing bubble has burst? Well let?s take a look.

Well by San Francisco?s standards alone, foreclosures are higher than they have been in the areas? history. We must keep in mind that this considers the entire history of Frisco and it?s typically has been an area that has continued to grow, while others even in the state of California have leveled off or remained stagnant. So in comparison with San Francisco?s past, foreclosures are still high. This is not the best sign of the real estate market for this great city.

Many in the area are still reporting having a hard time getting the financing they need to purchase not only new and resold homes, but foreclosures as well. This compared to the very few numbers of homes on the market in the first place, doesn?t look promising for a recent boom in the San Francisco real estate market. Currently there are only several hundred homes for sale. This can be viewed two different ways. First those who purchased homes in the San Francisco area were actually able to afford the homes and they are able to hold on to them. This is important to keep San Francisco as a stable and viable market in the area of real estate for years to come. The low number of homes can also be viewed as a measure of stagnation for the area. Many have pointed out that over the years San Francisco on the hold has shifted to an area for the vastly wealthy with no room for affordable housing or those up and coming middle class families or couples. This can keep an area from growing and booming in the real estate market. When an area gets a reputation for only a certain sector of the population, society and income levels it can definitely be a turn off for growth and expansion. This is something that many in the real estate market will continue to watch in years to come.

Because the land area of San Francisco is not very large, space for new homes to be built is limited however there are new homes in Frisco and they are being purchased as soon as they are built. The median home sale prices was around $350 thousand dollars for both homes and condominiums. However over 30% of the sales were for homes prices over half a million dollars. This again speaks to the fact that only the wealthy are able to afford many of the homes in the Frisco market. Many realtors however dismiss this as simply the attraction of the wonderful area by the bay and say that San Francisco will continue to lure moderate to high income home owners for years to come and there will be a place for all in the San Francisco real estate market.
Find Property Managers Near You
Select Property Type
Single Home or Condo (Valued up to $300K)

Single Home or Condo ($300K to $500K)

Single Home or Condo ($500K to $1 Million)

Single Home or Condo (Over $1 Million)

Multi-Family (2-4 units)

Multi-Family (5-19 units)

Multi-Family (20-99 units)

Multi-Family (100+ units)

Homeowners Association (2-49 units)

Homeowners Association (50-99 units)

Homeowners Association (100+ units)

Condominium Association (2-49 units)

Condominium Association (50-99 units)

Condominium Association (100+ units)

Retail (Up to 9,999 sqft)

Retail (10,000 - 100,000 sqft)

Retail (100,000+ sqft)

Office (Up to 9,999 sqft)

Office (10,000 - 100,000 sqft)

Office (100,000+ sqft)

Warehouse/Distribution (Up to 100,000 sqft)

Warehouse/Distribution (100,000+ sqft)

Light Manufacturing (Up to 100,000 sqft)

Light Manufacturing (100,000+ sqft)

Parking Garage

Biotech/Mission-Critical

Vacation (1-2 units)

Vacation (3+ units)

Other Associations (Hotel, Resort etc.)

Mobile Home Community