Get it Right, But Don't Discriminate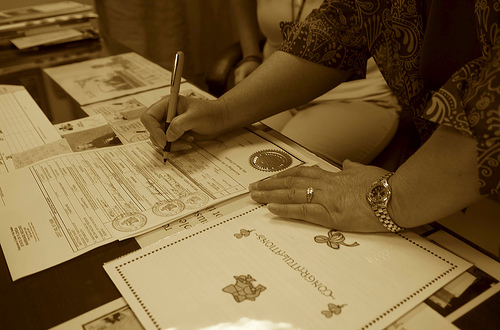 credit: geishaboy500
Getting the right tenants is the most important thing a landlord can do but this doesn't mean you can discriminate against a group because you personally feel they wouldn't be the best renters. In fact, there are a whole slew of federal and state laws that protect people from discrimination when it comes to housing and it would be very useful for you to peruse these laws routinely and follow the tips below.
Credit Checks for Everyone. A credit check is easy to do and fairly inexpensive and on top of that, it's a great tool for landlords and property managers. The key is to run a credit check on every prospective tenant so it doesn't appear as if you're practicing discrimination.
Staff Education. It's important that your staff knows the discrimination rules for your area and is willing to follow them. Keep them informed of any changes in the laws, have them familiarize themselves with the laws as they stand, and if you get a report of discrimination deal with it immediately.
Keep Records. Keep all screening and rental information in the tenant's files. This way, if there is a lawsuit, you can prove that every tenant goes through the same process. In fact, if you're worried about a discrimination suit from a rejected individual, you may even want to save their application and a detailed explanation of the valid reasons they were not selected.
Across the Board. You may have feelings about certain people upon first meeting them, and this may or may not be based on any possible prejudices you have, but no matter how you feel, you have to treat everyone the same. Have them fill out the same paperwork, use the same due diligence procedures, treat everyone with the same level of professionalism and you'll avoid a possible discrimination suit.
Find Property Managers Near You
Select Property Type
Single Home or Condo (Valued up to $300K)

Single Home or Condo ($300K to $500K)

Single Home or Condo ($500K to $1 Million)

Single Home or Condo (Over $1 Million)

Multi-Family (2-4 units)

Multi-Family (5-19 units)

Multi-Family (20-99 units)

Multi-Family (100+ units)

Homeowners Association (2-49 units)

Homeowners Association (50-99 units)

Homeowners Association (100+ units)

Condominium Association (2-49 units)

Condominium Association (50-99 units)

Condominium Association (100+ units)

Retail (Up to 9,999 sqft)

Retail (10,000 - 100,000 sqft)

Retail (100,000+ sqft)

Office (Up to 9,999 sqft)

Office (10,000 - 100,000 sqft)

Office (100,000+ sqft)

Warehouse/Distribution (Up to 100,000 sqft)

Warehouse/Distribution (100,000+ sqft)

Light Manufacturing (Up to 100,000 sqft)

Light Manufacturing (100,000+ sqft)

Parking Garage

Biotech/Mission-Critical

Vacation (1-2 units)

Vacation (3+ units)

Other Associations (Hotel, Resort etc.)

Mobile Home Community