Home builders growing more confident as housing assumes larger role in economy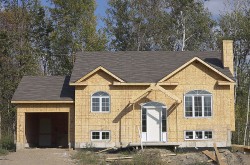 The Housing Market Index (HMI) maintained by the National Association of Home Builders (NAHB) and Wells Fargo posted its largest one-month gain in almost a decade this month, with builder confidence rising six points to 35.

That is the highest point the HMI has reached since March 2007, indicating developers are more optimistic in the market for new single-family homes than they have been in more than five years. The HMI's components measuring current sales conditions, prospective buyer traffic and sales expectations over the next six months rose to 37, 29 and 44 respectively.

While values below 50 still indicate that the majority of builders view conditions as poor, the across-the-board increase remains a positive sign. The first two components posted six-point increases, while the third grew by 11. While the extent varied, HMI gains occurred in every region of the country.

"Builder confidence increased by solid margins in every region of the country in July as views of current sales conditions, prospects for future sales and traffic of prospective buyers all improved," said Barry Rutenberg, NAHB chairman. "This is greater evidence that the housing market has turned the corner as more buyers perceive the benefits of purchasing a newly built home while interest rates and prices are so favorable."


Construction and demand jump during June


The latest figures from the U.S. Department of Housing and Urban Development (HUD) and the Census Bureau indicates that housing starts increased 6.9 percent in June. The pace of home construction was the fastest since October 2008, with single-family construction up in every region, although apartment development was less stable.

"Combined with the upward movement we?ve seen in other key housing indicators over the past six months, this report adds to the growing acknowledgement that housing ? though still in a fragile stage of recovery ? is returning to its more traditional role of leading the economy out of recession," said NAHB chief economist David Crowe.

Crowe did note that limited credit access and other challenges are restricting buyer activity in some markets, and must be resolved. Until they are, interest in rental housing is likely to continue outpacing homeownership significantly. While this could limit development activity, it may also be beneficial for some investors, rental managers and other industry stakeholders.
Find Property Managers Near You
Select Property Type
Single Home or Condo (Valued up to $300K)

Single Home or Condo ($300K to $500K)

Single Home or Condo ($500K to $1 Million)

Single Home or Condo (Over $1 Million)

Multi-Family (2-4 units)

Multi-Family (5-19 units)

Multi-Family (20-99 units)

Multi-Family (100+ units)

Homeowners Association (2-49 units)

Homeowners Association (50-99 units)

Homeowners Association (100+ units)

Condominium Association (2-49 units)

Condominium Association (50-99 units)

Condominium Association (100+ units)

Retail (Up to 9,999 sqft)

Retail (10,000 - 100,000 sqft)

Retail (100,000+ sqft)

Office (Up to 9,999 sqft)

Office (10,000 - 100,000 sqft)

Office (100,000+ sqft)

Warehouse/Distribution (Up to 100,000 sqft)

Warehouse/Distribution (100,000+ sqft)

Light Manufacturing (Up to 100,000 sqft)

Light Manufacturing (100,000+ sqft)

Parking Garage

Biotech/Mission-Critical

Vacation (1-2 units)

Vacation (3+ units)

Other Associations (Hotel, Resort etc.)

Mobile Home Community