Household formation sluggish as student debt, economy restrain spending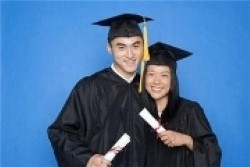 High student loan debt and other factors are holding back household formation across the country, some analysts say.

Census Bureau data shows that Americans are creating new households more slowly in the past. While the rate is picking up as the economy grows stronger, it is still at a historical low. Government officials and others have voiced concerns about the debt burden of graduates, exacerbated by high unemployment, according to the
New York
Times.

Meanwhile, lower demand for housing is not the only result. Furniture and various other goods that people typically purchase when moving into their own home may also be purchased at a reduced rate, with the combined effects further slowing the economy's recovery, the Washington Post reports.

Information from the Pew Research Center suggests that more Americans between the ages of 25 and 34 are living in multi-generational households than at any point since the 1950s. As many as 20 percent may be living with parents or making similar arrangements, which analysts estimate could be resulting in about 2 million vacancies that would be filled if household formation had remained steady through the recession.

Some experts say that it is only a matter of time until these Americans begin to form households more quickly, anticipating a surge of demand when they do so, while others wonder if the effect might be more long-term. Rental managers and property owners may wish to prepare for either case.
Find Property Managers Near You
Select Property Type
Single Home or Condo (Valued up to $300K)

Single Home or Condo ($300K to $500K)

Single Home or Condo ($500K to $1 Million)

Single Home or Condo (Over $1 Million)

Multi-Family (2-4 units)

Multi-Family (5-19 units)

Multi-Family (20-99 units)

Multi-Family (100+ units)

Homeowners Association (2-49 units)

Homeowners Association (50-99 units)

Homeowners Association (100+ units)

Condominium Association (2-49 units)

Condominium Association (50-99 units)

Condominium Association (100+ units)

Retail (Up to 9,999 sqft)

Retail (10,000 - 100,000 sqft)

Retail (100,000+ sqft)

Office (Up to 9,999 sqft)

Office (10,000 - 100,000 sqft)

Office (100,000+ sqft)

Warehouse/Distribution (Up to 100,000 sqft)

Warehouse/Distribution (100,000+ sqft)

Light Manufacturing (Up to 100,000 sqft)

Light Manufacturing (100,000+ sqft)

Parking Garage

Biotech/Mission-Critical

Vacation (1-2 units)

Vacation (3+ units)

Other Associations (Hotel, Resort etc.)

Mobile Home Community