Housing market split between regional improvements, declines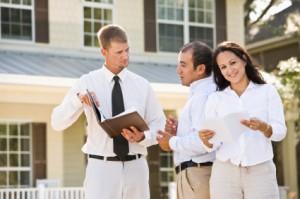 The National Association of Home Builders' (NAHB) Housing Market Index (HMI) rose one point this month, indicating builders and developers are slightly more confident in the market for newly-built single-family homes.

The HMI posted a value of 29, which is the highest level it has reached since May 2007. It gained four points this May, which the NAHB states may indicate a period of stable growth.

Barry Rutenberg, NAHB chairman, said that the gradual improvement reflects what is happening in many of the nation's housing markets. The low home prices and mortgage interest rates that are currently seen in the market are encouraging more Americans to make a purchase.

The HMI's components show that prospective buyer traffic and six-month sales expectations were unchanged. The increase was entirely due to improvement in the measure of current sales conditions. Investors may find home prices less favorable soon. Rental managers may experience a decline in traffic in the long-term as the market stabilizes, but that will likely take some time.

"While the June HMI is in keeping with our forecast for gradually improving single-family home sales this year, recent economic reports that have shown some weakening in the pace of recovery likely factored into the marginal gain," said NAHB chief economist David Crowe. "In addition, builders across the country continue to report that overly tight lending conditions and inaccurate appraisals are major obstacles to completing sales at this time."

The housing market was found to be divided along regional lines. The Midwest and the West each posted gains on the HMI, while the Northeast and South registered declines this month.

 
Find Property Managers Near You
Select Property Type
Single Home or Condo (Valued up to $300K)

Single Home or Condo ($300K to $500K)

Single Home or Condo ($500K to $1 Million)

Single Home or Condo (Over $1 Million)

Multi-Family (2-4 units)

Multi-Family (5-19 units)

Multi-Family (20-99 units)

Multi-Family (100+ units)

Homeowners Association (2-49 units)

Homeowners Association (50-99 units)

Homeowners Association (100+ units)

Condominium Association (2-49 units)

Condominium Association (50-99 units)

Condominium Association (100+ units)

Retail (Up to 9,999 sqft)

Retail (10,000 - 100,000 sqft)

Retail (100,000+ sqft)

Office (Up to 9,999 sqft)

Office (10,000 - 100,000 sqft)

Office (100,000+ sqft)

Warehouse/Distribution (Up to 100,000 sqft)

Warehouse/Distribution (100,000+ sqft)

Light Manufacturing (Up to 100,000 sqft)

Light Manufacturing (100,000+ sqft)

Parking Garage

Biotech/Mission-Critical

Vacation (1-2 units)

Vacation (3+ units)

Other Associations (Hotel, Resort etc.)

Mobile Home Community