Improve Your Home's Curb Appeal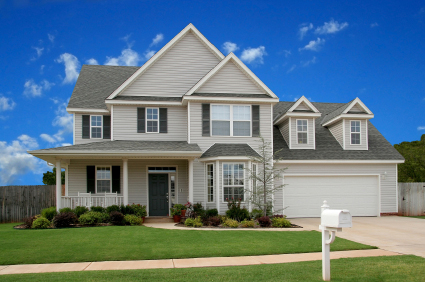 Selling your home isn't as easy as it once was. You no longer have people flocking to scoop up your property and turn it into their own goldmine. So, now is a time when curb appeal becomes extremely important. You want to draw buyers to your home and entice them to make that all important purchase.
Some updates you can make include very costly ones such as building a deck or a wrap around patio, but others can be very inexpensive and will only take you a weekend.
Lighting Makes sure your home is well lit from the outside so prospective buyers can see it. And while you're at it, make sure they're seeing the good parts. Don't let your lighting highlight areas that have been neglected or need repairs, use the lights to your advantage and spark interest in attractive features.
Safety As people are walking up to your home they don't want to trip over uneven sidewalks, get stuck in mud or break through a worn porch step. Make sure the walk up to your home is safe for everyone from tottery toddlers to unsteady elderly.
Paint This works both inside and out, but adding a fresh coat of paint makes everything feel a little newer and cleaner. It can also help hide some flaws and give off that great first impression. Remember to go neutral when painting. People are more attracted to neutral or subtle hues, you may love your favorite sports team, but you're really limiting field of buyers if you paint your house in the team's colors.
Landscaping Updating your landscaping can be expensive but you can take a more inexpensive way out by just adding some potted plants and flowers and maintaining/repairing your existing lawn. The more well tended your yard is the more attractive it is to prospective buyers, so this may be an area that you want to spend a little more time and money on.
To make sure you've got the curb appeal you want, have a friend whose opinion you trust come over and tell you what their first impression is. Use their advice to modify any sore spots they see. With these tips and the unbiased opinions of trusted friends you should be able to earn that sale.
Find Property Managers Near You
Select Property Type
Single Home or Condo (Valued up to $300K)

Single Home or Condo ($300K to $500K)

Single Home or Condo ($500K to $1 Million)

Single Home or Condo (Over $1 Million)

Multi-Family (2-4 units)

Multi-Family (5-19 units)

Multi-Family (20-99 units)

Multi-Family (100+ units)

Homeowners Association (2-49 units)

Homeowners Association (50-99 units)

Homeowners Association (100+ units)

Condominium Association (2-49 units)

Condominium Association (50-99 units)

Condominium Association (100+ units)

Retail (Up to 9,999 sqft)

Retail (10,000 - 100,000 sqft)

Retail (100,000+ sqft)

Office (Up to 9,999 sqft)

Office (10,000 - 100,000 sqft)

Office (100,000+ sqft)

Warehouse/Distribution (Up to 100,000 sqft)

Warehouse/Distribution (100,000+ sqft)

Light Manufacturing (Up to 100,000 sqft)

Light Manufacturing (100,000+ sqft)

Parking Garage

Biotech/Mission-Critical

Vacation (1-2 units)

Vacation (3+ units)

Other Associations (Hotel, Resort etc.)

Mobile Home Community