Las Vegas set for surge in apartments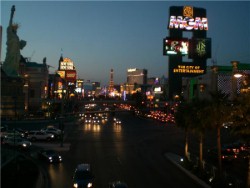 Single-family rentals in Las Vegas may need to prepare for a surge of competition.

While the city has experienced many single-family foreclosures and multifamily defaults, a number of firms are planning to build apartments in the metro area during the next two years. About 2,126 apartments are scheduled for completion before the end of 2012 and another 1,000 will follow next year, according to Multifamily Executive. Apartment investors and developers are anticipating future demand due to rising tourism and employment.

As visitors come to the metro area in greater numbers, their spending is beginning to fuel new construction and jobs in associated sectors. These industry stakeholders believe this is the beginning of a trend and are preparing to meet the housing needs of the city's residents, MFE reports.

Property management companies may find themselves with additional units to operate. Single-family investors could have a significant market for rental homes, particularly given the number of residents who have been through foreclosure in the region recently. Depending on the balance between demand and construction, however, investors may find themselves facing more competition than anticipated.

The builders may be right, as data firm Axiometrics predicts rents will rise 2.4 percent this year. What the long-term homeownership rate of the city will be also has yet to be determined, however. Should it rise again, rental housing demand could be lower than expected.
Find Property Managers Near You
Select Property Type
Single Home or Condo (Valued up to $300K)

Single Home or Condo ($300K to $500K)

Single Home or Condo ($500K to $1 Million)

Single Home or Condo (Over $1 Million)

Multi-Family (2-4 units)

Multi-Family (5-19 units)

Multi-Family (20-99 units)

Multi-Family (100+ units)

Homeowners Association (2-49 units)

Homeowners Association (50-99 units)

Homeowners Association (100+ units)

Condominium Association (2-49 units)

Condominium Association (50-99 units)

Condominium Association (100+ units)

Retail (Up to 9,999 sqft)

Retail (10,000 - 100,000 sqft)

Retail (100,000+ sqft)

Office (Up to 9,999 sqft)

Office (10,000 - 100,000 sqft)

Office (100,000+ sqft)

Warehouse/Distribution (Up to 100,000 sqft)

Warehouse/Distribution (100,000+ sqft)

Light Manufacturing (Up to 100,000 sqft)

Light Manufacturing (100,000+ sqft)

Parking Garage

Biotech/Mission-Critical

Vacation (1-2 units)

Vacation (3+ units)

Other Associations (Hotel, Resort etc.)

Mobile Home Community