Remodeling Your Bedroom for Senior Living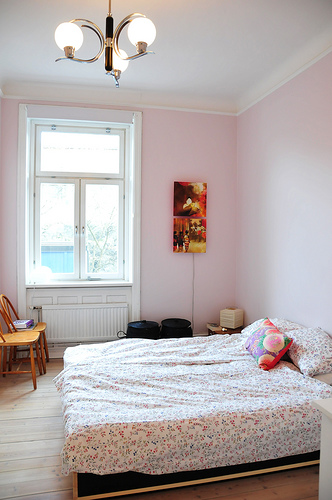 photo credit: Pacopus


Your bedroom is private and personal and as you age you want it to be as comfortable and accessible as possible, without any health hazards. You can remodel you bedroom and make it more accessible and safe by making several easy changes.
.
One thing you can do to achieve a more accessible senior bedroom is to install low-pile flooring. You can also arrange your bedroom so that you have plenty of open space. This can be achieved by putting your furniture up against the wall.

In addition, keep a lamp in the bedroom on an end table or on the top of a dresser drawer. Night lights in an adjacent bathroom and touch lamps also add convenience and safety.

To keep your bed safe and accessible you might also want to consider an electric bed; a bed that is a lot like a hospital bed, where the top and bottom can be adjusted to give you more comfort while in bed. And, when buying a mattress make sure that it is either firm or soft, according to your needs and that the height of the mattress is good for you. Some need a mattress that is lower, while others need a mattress that is higher.

Also, a different bedspread and bedding can make a big difference in the atmosphere and feel of a bedroom. By choosing colors that complement the look of your bedroom and fabric that is pleasing, you can recreate a bedroom that will be more to your liking and at the same time, give an inviting look to the room.

A comfortable, attractive and accessible bathroom also helps when recreating a bedroom for seniors, especially if the bathroom is attached or close to the bedroom. A bathroom that is simple in design, that has a large sink and bathtub, with large towels and good lighting, with a secure flooring can add accessibility to a senior?s bedroom.

In addition, there are other cost effective and safe ways to renovate and keep a senior?s bedroom comfortable and accessible. Buy and use throwaway pads that will help protect furniture. If the room doesn?t have them, think about installing shades or blinds that will keep the room dark and also provide privacy. A chair is also very nice for seniors because it provides an area where bedroom clothes can be stored when not in use. Also, keeping a flashlight handy on an end table can come in handy when looking for something or if there is an emergency.
Find Property Managers Near You
Select Property Type
Single Home or Condo (Valued up to $300K)

Single Home or Condo ($300K to $500K)

Single Home or Condo ($500K to $1 Million)

Single Home or Condo (Over $1 Million)

Multi-Family (2-4 units)

Multi-Family (5-19 units)

Multi-Family (20-99 units)

Multi-Family (100+ units)

Homeowners Association (2-49 units)

Homeowners Association (50-99 units)

Homeowners Association (100+ units)

Condominium Association (2-49 units)

Condominium Association (50-99 units)

Condominium Association (100+ units)

Retail (Up to 9,999 sqft)

Retail (10,000 - 100,000 sqft)

Retail (100,000+ sqft)

Office (Up to 9,999 sqft)

Office (10,000 - 100,000 sqft)

Office (100,000+ sqft)

Warehouse/Distribution (Up to 100,000 sqft)

Warehouse/Distribution (100,000+ sqft)

Light Manufacturing (Up to 100,000 sqft)

Light Manufacturing (100,000+ sqft)

Parking Garage

Biotech/Mission-Critical

Vacation (1-2 units)

Vacation (3+ units)

Other Associations (Hotel, Resort etc.)

Mobile Home Community