Retirement Communities near Seattle Washington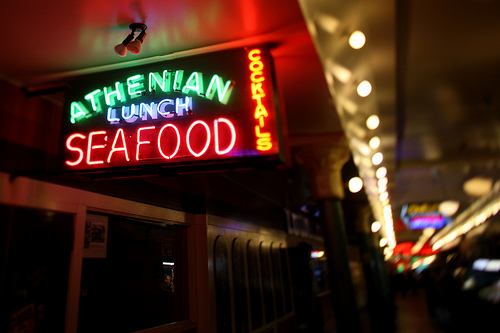 photo credit: Invisible Hour


Retirement communities provide residents with a great environment to live in, especially the retirement communities near Seattle, Washington. The communities near Seattle offer gorgeous views of the Cascades, towering oaks, and beautiful horizons. While the views and landscape can be quite breathtaking Seattle can offer so much more in way of entertainment. Professional sports, shopping, arts and culture, as well as fine dining are just a few niceties Seattle can provide. The retirement communities located near Seattle offer peace and quite with just a short car ride to city life.

Located near Seattle and Puget Sound lies the Azalea Gardens Retirement Community. The Azalea Gardens is a gated community located at the bottom of the Cascades Mountain with a 3.000 square foot clubhouse and recreational area. Beautiful views with the security of a gated community would make any resident feel safe.

Cascara at the Villages, near Redmond, is another retirement community near Seattle, Washington. This community offers residents a shuttle service, RV storage, tennis courts, bocce courts, horseshoe pits, lawn bowling, croquet, community parks and trails. For golf lovers there is a course right across the way, The Golf Club at Redmond Ridge. One of the many perks of living at the Cascara Villages is that all exterior landscaping and maintenance are taken care of so residents are free to live without the hassle of mowing.

Trilogy at Redmond Ridge is located twenty minutes from Seattle, Washington set among the stately pines. Trilogy is not just a place to put ones feet up although, one can certainly do that too, as it?s a place to continue to live and grow. They offer classes from the University of Washington?s Center for Learning in languages, photography, and much more. The have weekly barbecues at the Cascade Club with live music and cocktails. They also have a tranquility spa, championship golf course, the Redmond Ridge Grill, Cyber Caf?, tennis courts, and an indoor swimming pool. There is nothing that the Trilogy doesn?t have.

Retirement Communities are a great way to keep up an active social life in a safe and secure environment.
Find Property Managers Near You
Select Property Type
Single Home or Condo (Valued up to $300K)

Single Home or Condo ($300K to $500K)

Single Home or Condo ($500K to $1 Million)

Single Home or Condo (Over $1 Million)

Multi-Family (2-4 units)

Multi-Family (5-19 units)

Multi-Family (20-99 units)

Multi-Family (100+ units)

Homeowners Association (2-49 units)

Homeowners Association (50-99 units)

Homeowners Association (100+ units)

Condominium Association (2-49 units)

Condominium Association (50-99 units)

Condominium Association (100+ units)

Retail (Up to 9,999 sqft)

Retail (10,000 - 100,000 sqft)

Retail (100,000+ sqft)

Office (Up to 9,999 sqft)

Office (10,000 - 100,000 sqft)

Office (100,000+ sqft)

Warehouse/Distribution (Up to 100,000 sqft)

Warehouse/Distribution (100,000+ sqft)

Light Manufacturing (Up to 100,000 sqft)

Light Manufacturing (100,000+ sqft)

Parking Garage

Biotech/Mission-Critical

Vacation (1-2 units)

Vacation (3+ units)

Other Associations (Hotel, Resort etc.)

Mobile Home Community