Show Properties While Still Being In Your Office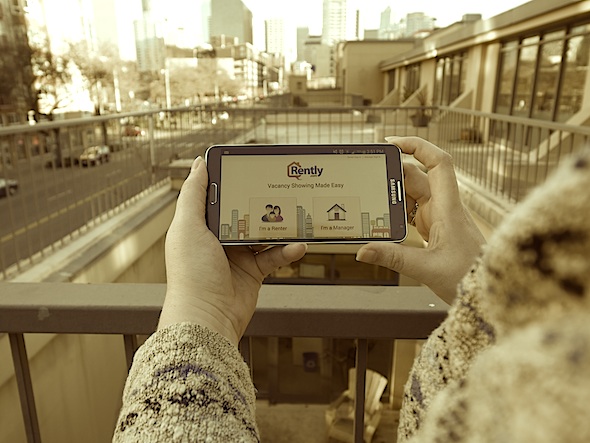 Once a property is for rent, property managers need to be prepared for an influx of calls from potential tenants. From there, they need to keep their schedules open and be ready to show the property. What if there was a technology service that gives tenants the ability to view the property, and once they were really interested, they could connect with the property manager? Well, Rently may be the solution. Rently is a mobile phone app, but is also available on any web device, that allows tenants to view vacant properties unaccompanied, by providing a code for vacant units. Property managers can save time and show properties to tenants who are truly interested in the property. We spoke with Merrick Lackner from Rently to learn more.


AM: Please tell us more about Rently.
Merrick Lackner
: Ok, one of their biggest day‑to‑day expenditures on resources, for property managers, goes into showing a property to renters and vendors. Rently make the process really easy and efficient. Let me run you through a couple scenarios where Rently's technology is used.

In the most exciting one, a renter can be walking out in the field, and walk by the For Rent sign provided by Rently. On the spot, the renter can take out their smartphone and register with their name, phone number and a valid credit card. We authenticate the information in real time and then the renter can head up to the front door and get a one‑time entry access code to see the property, and the property manager gets a real time alert.

That's when the renter is out in the field. Beyond that we're fully integrated with both the property manager's website and the property manager's web advertisements. Whenever a renter visits the property managers' website, or views any other ads, they can immediately register with Rently. We also have partnerships with Zillow and Trulia.

They don't need to have a smartphone, they can register right on the Web, get a printout of instructions to follow, and head up to the property during the manager's preset hours. Upon arrival they check in and get a one‑time entry access code. These features, allow a property manager to show the property without having even spoken to the renter. That's what we call Rently's automated showing aspect.

In a controlled showing, renters still call the property manager and ask questions over the phone. When a renter calls a property manager's office, Rently is still able to assist. The property manager can ask for the renter's name, phone number, and a valid credit card number.

Everything we spoke about is for the renter's perspective. The value proposition from a business perspective is that the property manager can eliminate leasing turn. This is the only technology that eliminates leasing turn. Appointments are made immediately rather than the traditional few days or longer.

The property manager can also save money because they don't have to go to every single property showing. In one trip you earn your investment in Rently back. As property managers know, every day that you're not renting, you're losing money, but let's take the positive approach- with Rently you're saving money on your showings.

Most importantly, you lease faster because you've the after hours and weekends available for immediate showings. Statistically, over 50 percent of renters prefer to see after hours and on weekends.

Rently can also work with vendors. Vendors, staff, outside contractors, maintenance crews and realtors can all be registered into the system. Once they're in the system, they can also enter the property using Rently's technology. When they check in, the property manager gets an alert. This streamlines access and benefits both renters and vendors. That's the high level overview of what we're doing.


APM
: That sounds very convenient. I've been living in cities for the past 10 years. Setting up apartment viewings can be such a pain. Do you know of other products like this? How would you say your product stands out from any other?
Merrick
: No, there's not any technology that brings together smartphone or web technology to facilitate rental property access. For decades, there have been different kinds of code access technology. However, there is nothing that brings the whole picture into a really well‑thought‑out process. This is our proprietary patent pending technology that we've been developing for years, and it's very exciting to see managers experiencing real benefits from it.


APM
: If we were to talk to your top three customers, how do you think they would describe your product?
Merrick
: If you were to talk to them, I think it would go back to the points that I conveyed earlier. The number one value, from an industry perspective, is the immediacy of it.There's just no other way to get this kind of immediacy. Renting is all about immediacy. Let's say I'm out in the field looking for a place to rent, and I see a For Rent sign. If I can't get an appointment to see it or receive feedback right away, I will move on to the next one. The elimination of leasing turn is tremendous.

I'll give you a concrete example. If we send a renter out to Zillow and Trulia, the property manager receives an alert when the renter inquires by Zillow. The renter then gets a real time email back from the property manager with information on how to see the place. If it's a Sunday morning and the renter inquires on Zillow, by Monday morning the property manager will know if the renter saw the property.

It goes back to the immediacy and the elimination of leasing turn. Beyond that you're saving money, yet another compelling reason, on every single showing and you're leasing faster.
APM
: This sounds great for both property managers and potential renters. Is there anything else you would like the customers to know?
Merrick
: Yeah. We're actually launching a new feature with our Rently Certified Call Center. For after‑hours and weekends, if a property manager is unable to answer phone calls, we can actually take those phone calls for them. Our Certified Call Center will get the name, number, and credit card of the renter and issue the code for the specific date of visit. This is an example of an add‑on service that we are in the process of launching. We've got more exciting stuff coming. We are launching some new features in the next couple of weeks.

When it comes to renting, a tenant is either going to like the property or not. The process is not as nearly complex as the home buying process. There's really no need for people to be spending hours in the car driving around town. It's a much more practical process to put the technology into the hands of leasing agents and let them use this to accelerate their ability to do more leasing.

One thing I should clarify is Rently is not about eliminating the leasing agent ‑‑ in fact some of our biggest advocates tend to be leasing agents from property management firms. They try this technology and say, "This is great, all of a sudden I've got the ability to do what 10 leasing agents used to do before. This is really helping our organization, and empowering us so much more."
APM
: Thank you for taking time out to talk about Rently. Can you give some background on how the idea came around for the product?
Merrick
: I moved to UC Berkeley to go to school there, and I drove quite a distance to see one property. It was actually two properties owned by one landlord. I drove around town, and I could not get an appointment to see any other property. There were For Rent signs all over; I just could not physically see anything else within the couple hours that I had left. I had driven up just for the day.

I was only able to see two properties, but I wanted to see more. As a result, I said to the first property owner, here's the deposit check, and I'm coming back in two weeks. After that experience, I realized there's no reason why in this day and age, that needs to happen to be the case. The vacation industry is predicated on strangers renting completely furnished homes from strangers, and now that we know about the B&B sharing economy, there's really no reason why a renter shouldn't be able to go into a vacant unit. Especially once they've gone through a comprehensive registration process. The renter experience was actually how Rently was born.


To Sum It Up!


Rently is both an app and web device that provides an access code for tenants to view vacant properties. Property managers can save both time and money. Rently eliminates leasing turn and allows property managers to focus on scheduling appointments for tenants who are interested in renting the property.

Like this article? Check out other similar articles with information on technology resources on our
Property Management Tech Tools Reviews Page!
Find Property Managers Near You
Select Property Type
Single Home or Condo (Valued up to $300K)

Single Home or Condo ($300K to $500K)

Single Home or Condo ($500K to $1 Million)

Single Home or Condo (Over $1 Million)

Multi-Family (2-4 units)

Multi-Family (5-19 units)

Multi-Family (20-99 units)

Multi-Family (100+ units)

Homeowners Association (2-49 units)

Homeowners Association (50-99 units)

Homeowners Association (100+ units)

Condominium Association (2-49 units)

Condominium Association (50-99 units)

Condominium Association (100+ units)

Retail (Up to 9,999 sqft)

Retail (10,000 - 100,000 sqft)

Retail (100,000+ sqft)

Office (Up to 9,999 sqft)

Office (10,000 - 100,000 sqft)

Office (100,000+ sqft)

Warehouse/Distribution (Up to 100,000 sqft)

Warehouse/Distribution (100,000+ sqft)

Light Manufacturing (Up to 100,000 sqft)

Light Manufacturing (100,000+ sqft)

Parking Garage

Biotech/Mission-Critical

Vacation (1-2 units)

Vacation (3+ units)

Other Associations (Hotel, Resort etc.)

Mobile Home Community