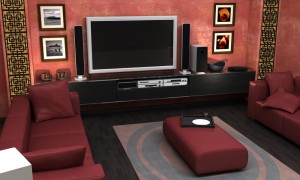 It's a topic of contention for landlords and tenants, as tenants want to decorate their apartments in a way that reflects their individual sense of style and personal tastes, but you want to retain the integrity of your property and avoid having to spend time returning your property to a neutral palette.

If you're a landlord struggling with a tenant who wants to decorate you have to realize that anything you let this tenant do you may have to let other tenants do. So one tenant that seems to be very responsible and tasteful may be a safe bet for some interior decorating but the flighty and garish neighbor may expect the same considerations. It's very important that you treat your tenants in the same manner, you could face discrimination suits if you don't.

The one thing that tenants most often want to change is the paint color of a rental unit. You can hold fast to your neutral paint colors or you can establish some compromises that might work for both your tenants and you, consider a policy that requires them to repaint the apartment in the neutral color of your choice before they leave so they can add their own fun colors while they live there. If you still are a bit hesitant, how about requiring that they hire professional painters to restore the property to its previous color.

In regard to other decorating issues, consider writing up a document to include with the lease that will let your tenants know what is acceptable and what isn't. You may even want to do a little research and give them some interior decorating guidelines that fit within your limitations.
Find Property Managers Near You
Select Property Type
Single Home or Condo (Valued up to $300K)

Single Home or Condo ($300K to $500K)

Single Home or Condo ($500K to $1 Million)

Single Home or Condo (Over $1 Million)

Multi-Family (2-4 units)

Multi-Family (5-19 units)

Multi-Family (20-99 units)

Multi-Family (100+ units)

Homeowners Association (2-49 units)

Homeowners Association (50-99 units)

Homeowners Association (100+ units)

Condominium Association (2-49 units)

Condominium Association (50-99 units)

Condominium Association (100+ units)

Retail (Up to 9,999 sqft)

Retail (10,000 - 100,000 sqft)

Retail (100,000+ sqft)

Office (Up to 9,999 sqft)

Office (10,000 - 100,000 sqft)

Office (100,000+ sqft)

Warehouse/Distribution (Up to 100,000 sqft)

Warehouse/Distribution (100,000+ sqft)

Light Manufacturing (Up to 100,000 sqft)

Light Manufacturing (100,000+ sqft)

Parking Garage

Biotech/Mission-Critical

Vacation (1-2 units)

Vacation (3+ units)

Other Associations (Hotel, Resort etc.)

Mobile Home Community