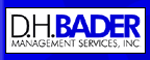 D.H. Bader Management Services
MAIN OFFICE
14435 Cherry Lane Court
Laurel, MD, 20707
We believe the purpose of a community association is to protect, preserve and enhance the value of a community's property.
We help accomplish this purpose by working closely with the Board of Directors to provide and employ those services and actions necessary to maintain and enhance the community.
We are dedicated to providing the most professional, reliable, effective, and proactive management services available to community associations.
SUMMARY OF PROPERTY MANAGEMENT SERVICES
Aid in resolving community association problems and concerns.
Respond immediately to homeowner telephone calls and correspondence.

Attend Board of Directors meetings, special meetings, and annual meetings.

Manage Association Funds: collections, allocations, accounting, record keeping, and coordinating the processing of tax forms and annual audits.

Administer and advise Board of Directors and homeowners on covenant compliance for issues such as:

Covenant Enforcement Sign Problems
Assessment delinquencies
Parking violations
Covenant violations or lack of compliance
Home modifications

Evaluate and Negotiate contract bids and proposals, administration, and enforcement for:

Insurance
Trash removal
Lawn maintenance
Snow removal
Parking lot cleaning, repair
Sidewalk repair
Asphalt repair and resealing
Window cleaning
Pool Management and Maintenance
Elevator maintenance
And other services as needed

Provide routine inspections to ensure quality conditions of common grounds maintenance.

Assist in Architectural Control matters such as:

Processing requests
Communications with approving authorities
Maintain database of Architectural Applications and Violation History

Coordinate the distribution of covenant/legal documents to homeowners/condominium owners.

Keep Association records.

Coordinate the writing and distribution of Association Newsletters.

Establish and maintain Association Web site.
D.H. Bader is proud to have been awarded the prestigious AAMC designation from C.A.I.
PROPERTY TYPES WE MANAGE
Homeowners Association (100+ units)