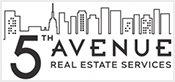 5th Avenue Real Estate
MAIN OFFICE
588 Sutter St
San Francisco, CA, 94102

5th Avenue Real Estate Services provides high quality management services to owners of investment properties and Owners Associations.
Our pride in setting tailored specific goals for property owners and Owners Associations with comprehensive financial, management, maintenance, and inspection services tells how we are leading the way in property management.
Our Operations are centered around the achievement of your properties goals and potential.
The team at 5th Avenue Real Estate Services shares in the philosophy of prompt customer service, frequent communication to clients, and continued education and training for team members.
All of which ensures a commitment to unrivaled excellence and continued performance of your investment.
Our strong focus on asset protection, profit maximization and budget control, make us a natural choice for your property management needs.
PROPERTY TYPES WE MANAGE
Multi-Family (100+ units)
Homeowners Association (50-99 units)
Condominium Association (50-99 units)
Homeowners Association (100+ units)
Condominium Association (100+ units)