A Leader in Property Management
Skyline Realty's property management division delivers a full-service real estate management solution to resident and non-resident property owners, existing and newly-formed associations, private estates, and real estate investors and their tenants.
Serving Greater Boston and Beyond Since 1993
For the past 25 years, Skyline Realty has managed hundreds of properties in Greater Boston with an impeccable track record. We offer several tiers of property management contracts tailored to the needs of each property owner at highly competitive rates.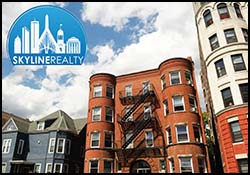 Property Management Services Built for Your Needs
At Skyline Realty, our mission is to delight our customers by providing straightforward, personalized, and innovative real estate services. We accomplish this by conducting business with unparalleled professionalism and a firm focus on management excellence. With our turnkey approach to everything from 24/7 maintenance, tenant relations, real-time access to critical financial information, bill payments, contract negotiations, and much more, we help you manage your property as efficiently as possible.
The following is a list of the services, which we provide to owners:
Financial Services
Provide accounting property management services.
Handle rent collection and distribution.
Send reminders about late payments and enforce late fees.
Make payments on behalf of owner (e.g., Mortgage, insurance, HOA dues, etc.)
Maintain detailed documentation of expenses via digital invoices and receipts.
Retain all historical records in a secure, cloud-based portal (e.g., Paid invoices, leases, inspection reports, warranties, etc.)
Provide monthly reporting (structured for tax purposes) and required tax documents.
Present easy-to-read monthly cash-flow statements, which offer a detailed breakdown of income and itemized expenses.
Process rent processing payments directly to owner.
Manage rent payments electronically for convenience.
Maintenance, Repairs, and Remodeling
Provide and oversee an in-house maintenance crew.
Establish a preventative maintenance policy to identify and implement repair needs.
Supply a network of licensed, bonded, and fully insured contractors who have been vetted for reasonable pricing and quality work that is up to code.
Assign jobs to various parties (in-house employees, handyman and professional contractors) based on who will do the best job for the best price.
Outdoor Area Maintenance
Leaf and snow removal.
Landscaping services.
Trash and debris removal.
Interior/common area cleaning and maintenance.
Project Management and Maintenance
Maintain a 24/7 online portal and emergency hotline for immediate maintenance support.
Manage larger renovation or rehab projects, including full gutting of kitchens and baths.
Obtain building permits and arrange inspections.
Recommend projects that maximize rental income.
Prepare preliminary cost estimates.
Process bids and act as general contractor to oversee the work.
Provide complete tenant turnovers.
Provide full interior design services, including drapery and color design.
Rental Management
Evaluate the property to determine accurate rental rate.
Utilize the most advanced online syndication partners to market the property.
Work with realtors and leasing agents to find a qualified tenant.
Thoroughly interview and screen prospective tenants.
Draw up leasing agreement with all related forms required by law.
Review lease guidelines with tenant regarding requirements such as rental payment terms and property maintenance.
Perform detailed inspection with tenant and have tenant sign a Condition Statement verifying the state of the property prior to move-in.
Collect first rents and security deposit.
Tenant Move-Out and Vacancies
Inspect unit and compile a report on the property's condition when the tenant moves out.
Provide tenant with a copy with estimated damages report.
Return the balance of the security deposit to the tenant.
If damages, forward owner's portion of the tenant deposit to the owner or hold in owner reserves for repairs.
Clean unit and perform needed repairs or upgrades.
Relist property for rent.
Contact us today to learn more and to experience the Skyline difference.