A Vested Interest
in Your Real Estate Success.
There is certainly no shortage of commercial real estate firms that want your business. That is why we are determined to do things differently - to redefine what a full-service commercial real estate firm should be.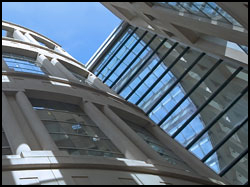 Our approach is based on a radically improved business model that is more responsive, client-focused and team-driven. Lee & Associates - a place where real estate professionals of the highest caliber are encouraged to join as shareholders, not just employees. Why is this important to you? These shareholders will always have a vested interest in the success and effectiveness of your real estate holdings and transactions.
Since 1979, our seasoned and motivated shareholders and professionals have been offering comprehensive and quality service nationally and locally in a pro-active manner. We develop customized solutions for all your real estate needs through our market-to-market knowledge in all property types. Our unique business model and extensive experience has helped us become one of the largest commercial real estate providers in the United States.
Management Services
With countless millions of square feet of industrial and commercial property under management, Lee & Associates is superbly positioned to help you optimize the value of your properties. We know that no two properties are alike, so we design custom management packages to meet the individual needs of each property.
Because you need timely, accurate financial reporting and business controls, we've made a significant investment in technology to make sure you get them--a library of financial reporting packages. Why? To ensure that our reporting procedures are second to none. Enthusiastic client reaction tells us we've achieved those goals.
We can also help with budgets, cost control recommendations, rent payment and income/expense analysis. We can design and execute a cash management program to help you achieve your cash flow objectives. These management tools are not "bundled," or "off-the-shelf." They're custom designed on an as-needed basis.
Our management philosophy is simple and pragmatic--we add value to our clients' holdings. We discover your goals for each property, long and short term. Only then do we design management programs--business plans, on-site management, marketing strategies, comprehensive reporting tools, and effective cost-control measures. Our financial reporting in support of those plans is equally thorough, backed by such financial reporting packages as Timberline®, Yardi, ARGUS and Pro-Lease.
Our services include:
Property Management
Facility Management
Project Management
Construction Management
Consulting
First, last and always, real estate is a one-on-one business. Individualized service is a must. We never lose sight of that fact.
Brokerage Services
Whether you are acquiring or disposing of commercial property, our seasoned brokerage professionals will tailor a solution designed to accomplish your specific goals and objectives. Our tenant/purchaser representation professionals take critical needs analysis far beyond those of traditional real estate brokers. Factors such as labor pools, demographics, mass transportation, road networks, logistics, supply chain and cost factors all come into play to create the perfect solution for you. We also serve the needs of landlords (including sublandlords) and sellers alike, and pride ourselves on offering the most effective and creative marketing programs industry wide.