We have the experience and dedication to bring you the best service in the area. We take care of all the day-to-day hassle so that you can enjoy the benefits of property ownership.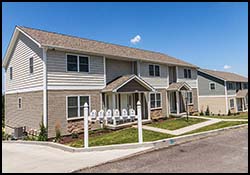 Tenant Placement
Harvey Goodman Realtor manages rental inquiries, matching only the strongest prospects to your properties. We screen applicants and show your properties, selecting the best matches with your needs in mind. Our process analyzes income, credit score, background, and five other key indicators to evaluate the quality of each applicant.
Lease Preparation
Our attorneys draft some of the industry's most protective leases that bring you the legal peace-of-mind you deserve. Our paperwork addresses many vulnerabilities ignored by a standard lease, and we offer this service with no extra charge. We can also work with your existing lease if you prefer it.
Repairs
When we manage your properties, you become a part of our family with direct access to our extensive network of some of the best contractors in the Ohio Valley. You will appreciate the attention to detail and experienced advice that help to keep expenses at a minimum.
Late Rent Calls
We call your tenant when we have not received their rent by the due date. We look for early warning signs when collection may be a problem and saves you the added stress of dealing with awkward phone calls or confrontations.
Eviction Filings
We avoid evictions wherever possible, but there are times when they are necessary and unavoidable. Harvey Goodman Realtor has the knowledge and experience to make sure that you get possession of your property as quickly as possible. We work with the best eviction attorneys in the Ohio Valley and appear at every court hearing.
Billed-at-Cost Construction
Our idea is simple. You pay what we pay for all common maintenance. For larger projects, we will provide several quotes and even manage the project for a minimal fee.
Judgment Collection Services
Harvey Goodman Realtor works with attorneys experienced in collections so you can rest assured that legal muscle is working for your best interests. There is no need for you to experience the personal stress associated with tracking down what is legally yours but not yet in your bank account.
24 Hour Account Access
Harvey Goodman Realtor's state-of-the-art management process allows you to see invoices, statements and up to the minute changes to your account whenever and wherever you are.
No Obligation or Long Contract
We are so confident that you will see the value of our service, that you may cancel the property management agreement at any time. Period.