EXPECT A LOT!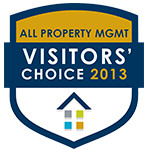 Secure One Properties is now a candidate to become a "Certified Residential Management Company" through the National Association of Residential Property Managers in the next year. Secure One Properties is the only eligible management company in Southern California for the designation and when earned will be one of less than 20 companies nationally to be so distinguished. This designation represents outstanding professionalism, ethics and excellent business practices.
An Extraordinary track record already exists Over 15 years of no eviction, damage, late payments or attorney fees for our clients in the guarantee plans. No other management companies have been willing to offer such wide meaningful coverage.

Expect us to care about you, your property and the success of your rental home.

Expect a thorough property evaluation initially to help you maximize your homes rent.

Expect tenant applications to be screened systematically and methodically to improve your success.

Expect professional knowledge and timely feedback to minimize legal issues and keep you well informed

Expect timely rent collection and when a problem arises for us to get involved immediately to help determine the best solution.

Expect security deposits to be handled properly so that deposits are used according to California law and that both the tenant and owner will receive proper treatment.

Expect to receive the most updated timely computer generated reports to keep you knowledgeable about income and expenses on your property.

Expect property inspections to be done periodically and in between tenants to look for problems, damage, and potential liabilities.

Expect reputable reasonably priced service people to be called when repair work is needed.

Expect to be treated well. If you are dissatisfied in the first 90 days you may easily cancel.

EXPECT A LOT!