Lawrence Allen & Associates is a firm founded on the principles of integrity and market knowledge. We put our client's interest first in an effort to create long lasting relationships. We specialize in managing Retail, Industrial and Office for individuals, trusts and corporation ownership groups.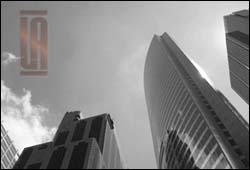 Lawrence Allen & Associates' superior management team combines their managerial and brokerage experience with their high end accounting services. Our property management services are for clients looking for Stability, Profitability and Peace of Mind.
Lawrence Allen & Associates' approach to property management centers around adding value through:
Reducing Occupancy Costs
Tenant Retention Programs
Maximizing Market Rents
Maintenance Audits and Reserve Projections
Customized Reporting - CPA Review Capabilities
Flexible Service Options
We have the capabilities to manage entire portfolios or stand alone individual properties. We offer the flexibility of multi-tiered service levels ranging from reporting services to full service property management.
Reporting Services
Monthly Operation Expenditure / Income Reports
Expense Disbursements: Property Tax Payments, Mortgage Payments, Insurance Payments, Vendor and Utility Payments
Deposit Services
Common Area Maintenance Annual Audit Tables
Property Maintenance
Maintenance - Lawrence Allen & Associates will procure the maintenance experts. We maintain relationships with numerous general contractors as well as specialty contractors and maintenance people.
Inspection Tours - Lawrence Allen & Associates regularly tours our managed properties to prevent any lingering issues from generating additional repair costs. We focus on maximizing the life and profitability of the asset.
Maintenance Reserves - Upon initiating a project, Lawrence Allen & Associates perform a maintenance audit. With the audit report we will generate a long term maintenance schedule from which to project maintenance reserves. We audit the condition of the roofs, hvac units, paint, parking areas and general building areas.
Eviction Services - When needed, our attorney relationships ensure an expeditious eviction process giving us the quickest and easiest path to re-leasing the property and creating a renewed and profitable situation.
Lawrence Allen & Associates' property management has the experience and the strategies necessary to maintain and grow profitability. Our services and expertise will give you peace of mind and generate profitable returns all while maintaining a trouble free environment for ownership.
Contact us regarding any or all of our services. We look forward to creating value for your real estate strategies.