Since 1987, The Property Group (TPG) has been Fairfield County's trusted choice for full-service property management. With an experienced staff, flexible service offerings, and a proven track record, we are well-suited to manage associations and communities of any size.
TPG is fully insured, and all of our property managers are licensed Certified Managers of Community Associations (CMCAs).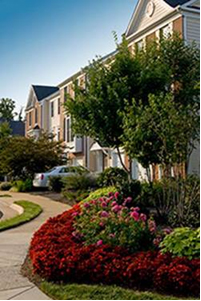 A Reputation for Customer Satisfaction
Over 25 years of experience have taught us that communication is the key to efficiently managed properties and satisfied clients. To that end, we've established excellent communication systems both internally and in our interactions with vendors, contractors, property Boards of Directors, and association-employed staff.
Our property managers share these values. Always connected and known for providing quick responses to voicemail and email, our property managers offer a level of reliability that can't be matched anywhere else. We're always there for you, even after-hours.
MANAGEMENT SERVICES
With The Property Group managing your community or association, you can feel assured that your property will be handled effectively and efficiently on a day-to-day basis. Our property managers are experienced, consistently professional, and passionate about what they do. By staying abreast of critical issues and paying thorough attention to details, we can maintain and add value to your property.
We work collaboratively with the Board of Directors to manage your community. While the Board members are ultimately the decision-makers, our property managers can take over many administrative, financial, and maintenance duties including:
Negotiating contracts for services (e.g., landscaping, snow removal, trash removal)
Obtaining bids for special/capital projects from competitive vendors
Initiating authorized competitive bidding on all service contracts prior to renewals
Handling day-to-day issues, phone calls, and emergencies (e.g., floods, fires) and responding to any complaints
Ensuring fair enforcement of the property's rules and regulations
Supervising any on-site staff and independent contractors
Learn more about what The Property Group can do for your association.