IN RHODES MANAGEMENT, INC. has been providing professional community association management services to condominium and homeowner associations in southeast Michigan for over 25 years. IRM is one of three AAMC's in the State of Michigan.
THROUGH OUR AFFILIATIONS with Community Associations Institute (CAI), Michigan Chapter of CAI, United Condominium Owners of Michigan (UCOM), and the Institute of Real Estate Management (IREM), our company is able to provide our associations with thoroughly trained professional managers. To achieve this goal , our staff members are required to attend continuing education seminars and training sessions, encouraged to pursue professional designations and participate as speakers and panel members at conferences.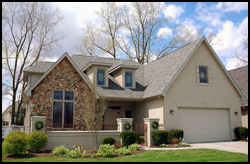 OUR MANAGERS PROVIDE a hands-on management approach. This level of involvement enables us to provide personal attention to details while serving the community as a whole. Our firm has experience at every level of community association management, from the conception of a new community to management of a fully mature community with extensive needs.
The AAMC accreditation demonstrates a company's commitment to providing the unique and diverse services community associations need. An Accredited Association Management Company ensures that their staff have the skills, experience, and integrity to help communities succeed. Its managers have advanced training and demonstrated commitment to the industry—just the type of professionals that community association boards seek to hire!
CHOOSING A COMPETENT management firm is crucial to the success of any association. To satisfy your needs, In Rhodes would like the opportunity to be your management company. Please contact us to get started today to request a proposal!