One Location. All Your Property Management Needs.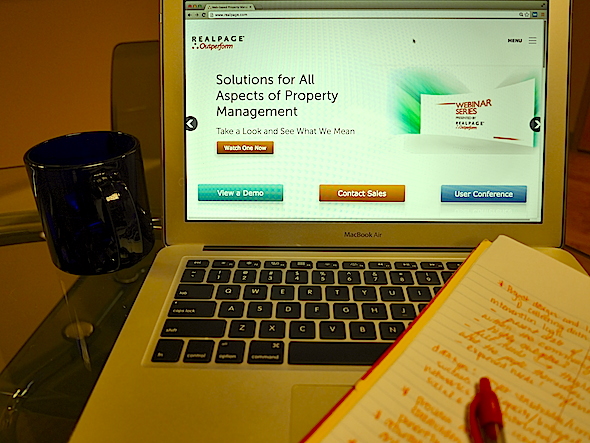 Most property management software programs help benefit property managers and their teams. It is rare to see property management software that also helps build better relationships between tenants and property managers. RealPage is all-in-one property management software that is customizable. Property managers can use the software to work with students, seniors and military housing residents. For example, RealPage allows students to find roommates, see floor plans in advance and sign lease documents online. This is a great feature for out-of-state students looking for accommodations in another state. We spoke with Katie Jones, from RealPage, to learn more.


APM
: Please go into more detail about RealPage.


Katie
: Within Real Page, our two main products are OneSite and Propertyware. OneSite is built for a wide range of property management companies, while Propertyware is built for more low‑density, multi-family and single‑family home management companies. Within Onesite, we offer pretty much any of your business strategic initiatives. Some of the solutions that OneSite offers are leasing and rents, accounting, budgeting, forecasting, purchasing and document management platforms.

We also work with LeaseStar and integrate it into our sales and marketing suites. Within LeaseStar you can purchase the marketplace suite or the social suite. This places listings onto different social media platforms, as well as classified and syndication services. Think of it as an automatic tool that helps you list your properties on different sites. LeaseStar can also provide website design and SEO functionality services. We also have a contact center that helps capture more leads and lease more apartments by answering all calls and emails. In addition, LeaseStar also provides a welcome home resident portal, online renewals, electronic payments and 24- hour maintenance calls, resident screening services and renters insurance.

Using YieldStar, we offer revenue and spending management, office technology reports, utility management and advanced energy reporting. Our MPF research reports provide apartment market trends to help you stay competitive with different apartment complex prices in your area. Since our work is done in the cloud, it?s important to note that all your data is kept secure.


APM
: For property managers who don't really have a lot of time to differentiate between products, what would you say makes your product stand out?


Katie
: OneSite is very versatile, and can work with other software, but if you want the option of using only one software, OneSite can do it all for you. We basically offer everything in one system. ?With only one subscription you get one account that offers everything rather than having to go to different websites to access different aspects of your business.


APM
: Is there a specific feature that stands out to you and your own experience with it?


Katie
: I think the resident portals are probably my favorite. My own apartment complex uses OneSite. I can go online, pay my rent, submit and oversee my maintenance request. There is up to date tracking, so I can go online through my own portal and see if someone read my maintenance request. I also receive questions asking for permission to enter my apartment when I am not home or notifications when someone is working in my apartment. I can submit my request in the morning, watch the progress throughout the day and come home to a fixed apartment. That's probably my favorite, the resident portal and online payments.


APM
: That is a great feature. I am sure many tenants would appreciate this system to help manage their maintenance requests. Is there anything else that you would like your customers to know?


Katie
: I think I mentioned the most important aspects. Sometimes we have customers who compare prices and tell us they pay $20 a month for a service, but they find themselves paying $30 for another service. Eventually, they are paying for multiple services instead of paying one fee for one service that offers multiple features. Propertyware offers several features that save property managers from using multiple software.


To Sum It Up!


RealPage offers several services including Onesite and Propertyware to help property managers oversee their day-to-day affairs. Property managers can manage several different property types, work with diverse tenant groups and handle office management affairs like accounting. RealPage's list of features gives property managers the ability to manage their properties from one location instead of needing to use several different property management tools.

Like this article? Check out other similar articles with information on technology resources on our
Property Management Tech Tools Resources Page!?
Find Property Managers Near You
Select Property Type
Single Home or Condo (Valued up to $300K)

Single Home or Condo ($300K to $500K)

Single Home or Condo ($500K to $1 Million)

Single Home or Condo (Over $1 Million)

Multi-Family (2-4 units)

Multi-Family (5-19 units)

Multi-Family (20-99 units)

Multi-Family (100+ units)

Homeowners Association (2-49 units)

Homeowners Association (50-99 units)

Homeowners Association (100+ units)

Condominium Association (2-49 units)

Condominium Association (50-99 units)

Condominium Association (100+ units)

Retail (Up to 9,999 sqft)

Retail (10,000 - 100,000 sqft)

Retail (100,000+ sqft)

Office (Up to 9,999 sqft)

Office (10,000 - 100,000 sqft)

Office (100,000+ sqft)

Warehouse/Distribution (Up to 100,000 sqft)

Warehouse/Distribution (100,000+ sqft)

Light Manufacturing (Up to 100,000 sqft)

Light Manufacturing (100,000+ sqft)

Parking Garage

Biotech/Mission-Critical

Vacation (1-2 units)

Vacation (3+ units)

Other Associations (Hotel, Resort etc.)

Mobile Home Community