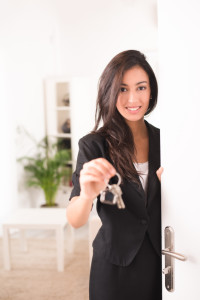 Whether you're a first-time landlord or an old pro, there's always room to get better. Improving your skills can increase occupancy rates, make for more consistent revenues, and lead to a less stressed life for you and your business. For some helpful tips on how to up your game, read on.
1. Be More Personable
Landlords all hope to be busy, but that doesn't mean they can't be personable. When tenants stop by with their rent payments, ask about their families or jobs. Inquire about hobbies, too. It's little inquiries like these that can make your tenants feel more appreciated. Be professional, but friendly.
2. Include More Detail In Rental Contracts
If excessive noise is against the rules, note that in the lease – and be detailed. No loud music after 9 p.m., for example. Don't leave anything open to interpretation. If home improvements are restricted, list that as well. Renters may be allowed to repaint their rooms, for example, but not re-carpet their floors. And, if installing a new ceiling fan is prohibited, your tenants are going to appreciate knowing that so they don't waste money buying one.
3. Price Your Rentals Appropriately
Do some market research and see what other rentals in the area are going for, and be sure your properties are priced appropriately. Of course, you want to improve your profits as much as possible. But, if you overprice properties and folks move in only to eventually find they're paying hundreds of dollars more than they could have been, you can harm your reputation. Keep your bottom line in mind, but always stay reasonable.
4. Vet Prospective Tenants
Good tenants can go a long way toward creating a good landlord. Always do criminal background checks, get thorough credit reports, and contact every personal and professional reference. Renting to folks with sketchy histories can lead to trouble further on down the road.
5. Maintain Your Property
Make sure you're addressing the concerns of your renters, whether it's a leaky faucet or a faulty AC system. Nothing can damage a landlord-tenant relationship more than ignoring your tenants' problems. Ramping up your repair department protocols can help a great deal. You're much more likely to have minimal tenant problems when your property is a place they enjoy coming home to.
6. Seek Out Professional Advice
No matter how long you've been a landlord, there's nothing wrong with asking for advice. Professional property management companies provide a wealth of knowledge around legal issues, tenant relations, even evictions. Check out the directory All Property Management to find a local property management company and any of a number of legal blogs targeting landlords. You can also join a professional association in your city or state.
Final Thoughts
If you've got property managers on staff, they serve as conduits to your tenants – so choose them with care. Vet your hires just as much as you do your tenants. Any candidates should have previous experience managing properties, solid accounting and organizational skills, and be trustworthy and reliable. You can do everything in the world to improve your personal landlord skills, but if your direct managers aren't qualified, all your efforts could be lost.
What other ways do you know of to be a better landlord?
Dale Terry is based in Georgia and writes about credit and debt, personal finance, managing rental properties, and growing long-term investments.
We hope this article was helpful! Thanks for reading.
– The All Property Management Team
Find a Local Property Manager
Search our favorites
or call 877-215-9182
To our family of property managers,
Today I'm excited to announce some big news… All Property Management (APM) has been acquired by Buildium, a web-based property management software company that helps property managers to be more effective and efficient.
For more than 10 years, APM has passionately helped thousands of property management companies grow their businesses. We get to wake up everyday and introduce new property owners to hard working property managers, connections that often last many years and generate many thousands of dollars.
In 2014 alone, APM delivered over $50,000,000 worth of new property owner relationships to property managers in the U.S. And now, with Buildium's vast resources and experience, we're able to emphatically say that we're just getting started!
Like APM, Buildium was founded 10 years ago by a couple of guys who are passionate about helping small entrepreneurs succeed. Michael Monteiro and Dimitris Georgakopoulos set out to make it easier for property managers to run more efficient and profitable businesses. Today, Buildium has more than 10,000 property managers using their software to manage over three quarters of a million units! That's an amazing achievement. And under Michael and Dimitris' leadership, APM's service is only going to get better!
This acquisition creates the most complete solution in the property management industry. Together, APM and Buildium are a force to help property managers be more efficient and grow faster.
What's next? Nothing changes for either Buildium or All Property Management customers – you can continue to use the same services you've grown to love. In the coming months, you can expect to hear more about some of the exciting new innovations we have planned for Buildium and APM customers later this year, so stay tuned. And don't worry, your account manager is still here to provide the same great service you've come to expect.
Lastly, we wouldn't be here without you, our customers. Thank you. The best is yet to come!
Jacob Colker
General Manager
All Property Management
P.S. — Here's a link to the full press release!
.
.
Now that homes in Seattle have appreciated in value, is it better to sell or rent out your property?
Most US states have seen a rise in home prices. Further appreciation will come over the next year according to the REALTORS Confidence Index Report released in April 2014. The nation is expected to see property values further increase by a median of 4%. This trend provides homeowners looking to downsize or upgrade the opportunity to keep their current property as an investment.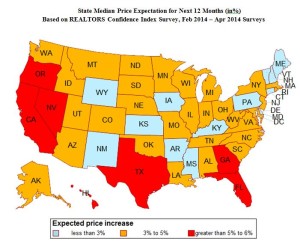 In fact, the recent home price increases have made it harder to buy a house which has made the rental market go crazy. Rents are increasing and vacancy is decreasing. Choosing to turn your property into a profitable rental is more viable than ever before.
What caused this spike in appreciation?
Mark Ferguson, a successful Northern Colorado real estate broker and rental home investor, commented, "In my market we have almost no inventory. Last year we had 1,500 homes for sale and now we have 300… There simply are not enough lower priced homes for the current buyer demand. That demand is continuing to push prices higher." As home prices rise, more people opt to rent. In turn, this increases the viability of profitable rental properties.
What caused the lower inventory of homes?
One factor was little to no new home construction. Construction of new homes has not kept pace with the post-crisis recovery. With lack of additional inventory entering the housing pool and the population increasing, the market is in short supply, driving demand and prices. Though we have seen a resurgence in new construction in parts of the country, there still remains a huge demand for more affordable housing.
How does this affect property owners or investors?
Ferguson continues to explain, "The great thing about real estate is if you already own property, inflation is not a bad thing. Your rents and values will most likely increase and your payments stay the same. The downside is that its more expensive to buy property, but if the rents are rising as well, you should still be able to make the same amount of margin."
How are property managers partners in this process?
We're obviously biased. We believe that a professional property manager can help you save money and time by avoiding costly mistakes. Give us a call at 877-215-9182 or browse a list of our favorite property managers online!
We hope this article was helpful! Thanks for reading.
– The All Property Management Team
Find a Local Property Manager
Search our favorites
or call 877-215-9182