For property managers who love working with people, but despise the paperwork process for inspection reports, Inspect and Cloud might be the solution. Inspect and Cloud is online property inspection software. Property managers can create customizable inspection reports to fit their specific needs. Inspect and Cloud has a commitment to customer service. If a customer believes something is missing from the software, Inspect and Cloud aims to resolve this issue and continues to innovate their product. We spoke to Jon Ray from Inspect and Cloud to hear more.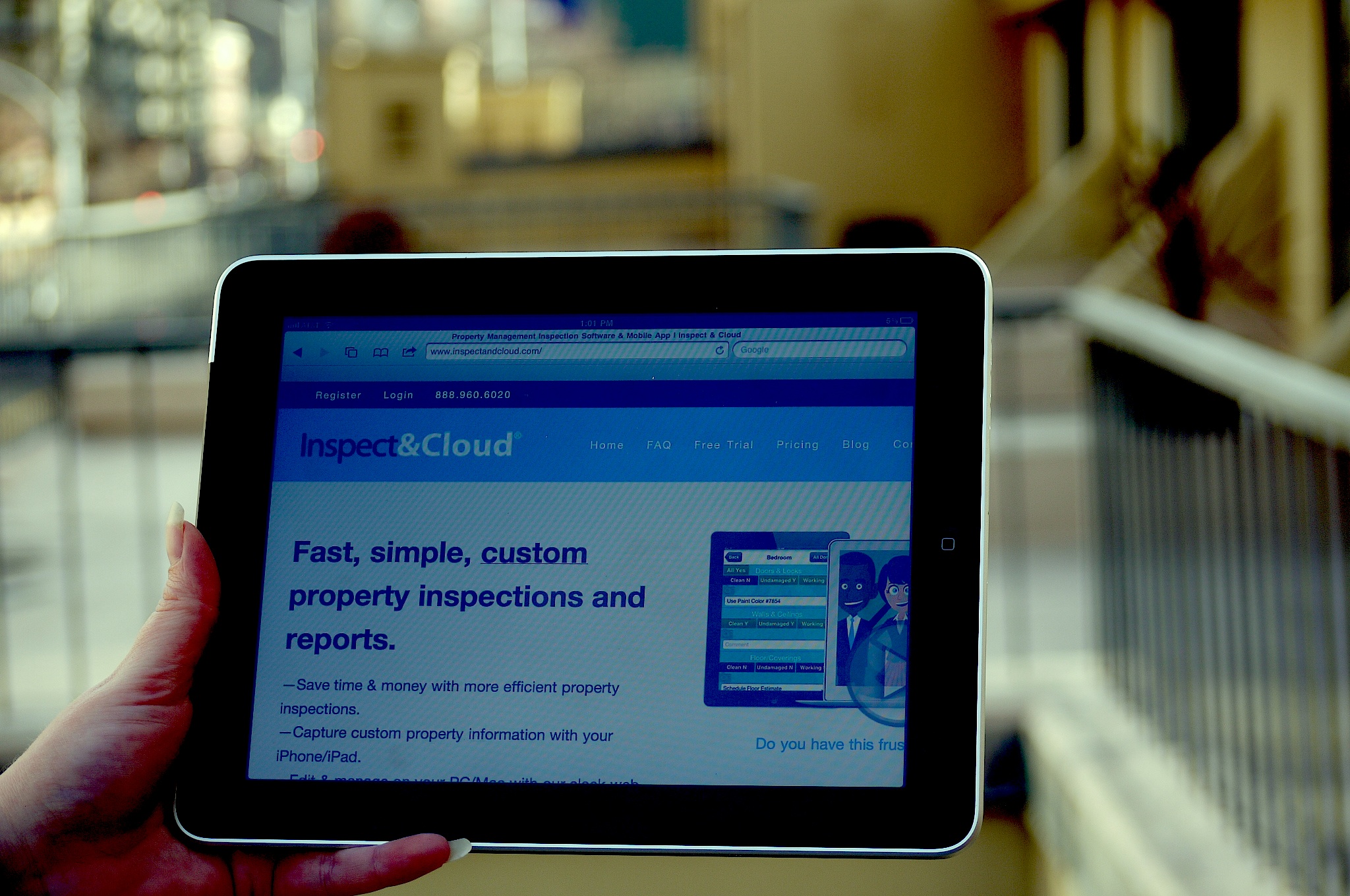 APM: Can you please describe Inspect and Cloud?
Jon: From a 30000 ft overview, you have an icon inside the app that desensitizes the property inspection process. The information collects from the field via your Iphone or Ipad. We try to take the frustration out of the property inspection process, and ensure high quality reports for each property inspected.
APM: How does Inspect and Cloud stand out from other property inspection reports?
Jon: We try to build Inspect and Cloud based on the feedback we get from the property management industry. Both my business partner and I have backgrounds in the property management. We both know it is frustrating to carry around a bag with your digital camera, clipboard, and worksheets. This began as a personal issue for us. We realized that some of the property inspection software available has a limit with what you can do. We need the functionality to be able to customize the information we collect at each type of property.
With Inspect and Cloud, we offer customized templates. Create templates for single-family homes, multi-family complexes, HOA inspections or maintenance inspections. If there is information users need to specifically collect for a property, we have a capability to build a custom template. With the web application, Inspect and Cloud allows you to design the mobile app.
APM: Do you think users can easily design their own platform? Would you consider Inspect and Cloud user friendly?
Jon: Absolutely. We try to make Inspect and Cloud as intuitive as it can be. We understand how technology can be scary for people who do not use it all the time. We have a team in our support center that trains on every aspect of the product. Users can call our support center with any questions. Inspect and Cloud is intuitive. We want our users to open it up and immediately be able to conduct an inspection without learning a new system. We also created several video tutorials to give you a step-by-step on every single feature that is available.
APM: If we talked to your top three customers, how would they describe your product?
Jon: Most customers would take a sigh of relief, especially when they recall their old process and how tedious it is. Our top customers have several inspectors out in the field with large portfolios. We designed Inspect and Cloud with membership levels. We are excited to offer the product to the small property manager who is just getting started with less than 100 doors, to the property manager with 10,000 door clients. We think Inspect and Cloud contributes to a company's growth and provides the tools to help foster growth. We have witnessed businesses grow due to the showcasing of their reports and professional designs. These inspection reports provide a competitive advantage in their prospecting kits.
APM: Do you have a favorite memorable moment with a customer?
Jon: There are several memorable moments. One that stands out to me involves a seasoned individual who has over 20 years in the property management industry. For him, the property inspection process is the most tedious part of his day. He loves talking to people, forms relationships, enjoys finding new prospects, but the property inspection process is something he could not get into. He thinks of it as a necessary evil. He was initially hesitant to use the software because he was not familiar with how to use an Iphone. Originally, we spoke with him a few times over a period of a couple of weeks, to explain the value of Inspect and Cloud. We knew he simply needed to try to the product, and once he did he would see how easy it is to use. He called us back after he tried it and said " Its so easy! I filled out my own custom inspection report. We already did one inspection!". We thrive on customer enthusiasm like his.
APM: We could see how that would be incredibly rewarding. Is there anything else you would like your users to know?
Jon: Yes, we appreciate user feedback. We try to schedule at least a phone call and hopefully a full product demo with every single person that signs up for the product. We designed our customer support system, to provide a level of customer service that builds relationships. We know our software and believe it is only as good as the feedback we receive. We continue to innovate. We put together a quasi-focus group of our users to innovate and add new features. We ask our users to let us know if anything does not seem intuitive, if something frustrates them, or if there is something they wish the product would do. If there is something missing please let us know immediately. Inspect and Cloud is a start-up company with our developers here in the US. We can quickly pivot if needed, and this is our competitive advantage.
Our users know they can make suggestions. If we think it could work, we go to our property managers focus pool, and see if we can implement it. We feel we add value because we spoke with enough property managers to solve everyday inspection issues. We want property managers to focus on growing their business. We do not want them to deal with the day-to-day tedium of doing property inspections.
To Sum It Up!
Inspect and Cloud is a property management software that aims to incorporate each aspect of property inspections. However, if users feel that something is missing, Inspect and Cloud looks into the issue and see what changes can be made immediately. Inspect and Cloud is committed to being innovative, and also wants to make the property inspection process easy so property managers have time to focus on other endeavors.
A lengthy to do list can overshadow the feeling of joy you experience when the clock says 4:58 on Friday afternoon. Property inspectors, for example, can spend hours distinguishing between contractor quotes. Happy Inspector, a property inspection app, alleviates this issue by streamlining all contractor quotes in one place for your review. Happy Inspector allows property inspectors to finish their work in a timely manner and brings back Friday 5:00 p.m. joy. We spoke to Rand Owens, from Happy Inspector, to learn more about the app.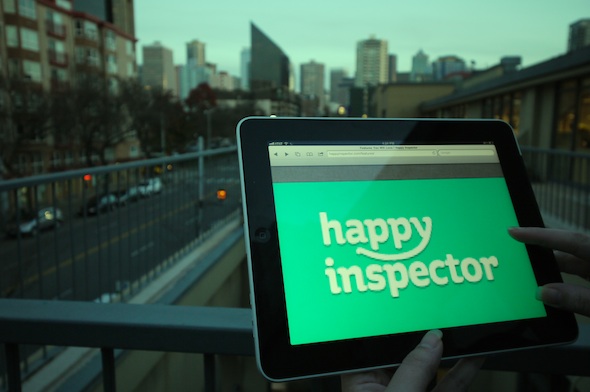 APM: For property managers who do not have a lot of time to differentiate between products, why does your product stand out from the competition?
While most inspection software have similar basic features that digitize the inspection process itself, Happy Inspector has additional features that significantly boosts a property manager's customization and automation capabilities, which translates to more professional reports and faster turnaround for maintenance requests.
For instance, specific industries can customize their inspection tablet, not only can a user customize the property areas and specific amenities to inspect, but they can also modify the rating system by changing the rating icon, name, and number of rating items.
To help the inspectors streamline the repair process, the app can aggregate quotes from local contractors and allow the inspector to send out maintenance requests directly from the app, either to the contractor or simply to the owner.
Aside from these additional features, Happy Inspector has the most intuitive and user-friendly interface among its competitors. Our app is so simple to use that many of our users who never used a mobile device before are fluent with it within a few minutes. As we start to on-board larger clients, the ease of adoption is incredibly important to us because an easy app to use means a fraction of the time and energy spent On-boarding employees within the company.
When it comes to pricing, Happy Inspector also has the most affordable and flexible plans. Unlike our competitors, we do not charge additional fees to add additional users within a company or to have a high number of doors inspected.
APM: Describe a memorable moment with a customer and what they said about your product?
Chris Brown from Beeline Property Management called us to say how happy he is with our product. His words were, "This is everything I've been looking for in an inspection program!" Chris previously used the app of our largest competitor, so his compliments were especially meaningful. We are glad our time spent listening to our customers helped us build the best product on the market, and since then Chris and many other happy customers like him have helped us continue to improve and grow our business.
APM: Pick a specific feature of the product and tell me in detail why this feature stands out to you and your own experience with it.
The customizable inspection template is my favorite feature. Customers are happy to learn about Happy Inspector's ability to customize specific templates for a specific unit, door, and even the items in the room. A few of our competitors are doing the same thing, but property managers have found it easier to customize templates in our app than in those of our competitors, not to mention the level of specificity is much higher.
APM: If we talked to your top three customers, how would they describe your product?
They would describe Happy Inspector as:
Happy Inspector cuts inspection time by 75% for property managers. That means saving thousands of dollars each year normally spent on inspections and reporting, and having more time to go out and get new businesses.
"One of our key value propositions"
Our customers have described our app as trans-formative for their businesses, the level of professionalism, organization, and ease in communication our technology provides helps them stay ahead of their competitors. The professionally branded reports and capability to attach photos, comments, and signature makes their businesses very attractive to their potential clients.
"An intuitive and easy tool"
We've been told what really differentiate us from our competitors is how intuitive our app is. The entire process resembles the traditional pen-and-paper inspection process… only it is faster, neater, and easier to organize. When you have a team of multiple inspectors, the ease of adoption makes a huge difference.
APM: Is there anything else you would like your customers to know?
A big misconception about Happy Inspector is that it's meant only for residential property managers, when in reality we service hundreds of companies in industries like multifamily, REIT, student housing, vacation rental, commercial properties, and more. Our highly customizable template makes it easily adaptable to nearly all inspection models? our software specialists can even create custom templates upon set-up for our more particular customers.
To Sum It Up!
Happy Inspector is a property inspection application that allows you to streamline all your work into one location. Property managers can customize their own reports, import information from previous management software, and access vital information immediately. Property managers can finish their work in a timely manner and re-experience 5:00 p.m. joy.
Property managers are overwhelmed with the many hats they wear. Property managers screen for the ideal tenant, negotiate leases, enforce policies, and manage financials; day-to-day tasks never end. Flowfinity is a mobile application that enables property managers to organize their work day from one place, either by phone or tablet. We spoke with Flowfinity to learn more about their product.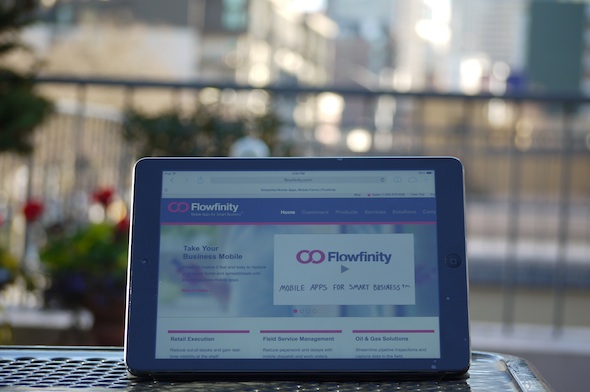 APM: For property managers who do not have a lot of time to differentiate between products, why does your product stand out from the competition?
Flowfinity: Every property manager spends time away from the office. Flowfinity provides a flexible mobile solution that helps property managers and maintenance personnel complete their daily tasks on-the-go using popular smartphones and tablets. Flowfinity is point-and-click software and creates custom business applications without programming; customers can keep their existing way of doing business and easily adapt it to a mobile platform. Flowfinity is not a pre-built solution, but instead a fast and easy way to replace paper forms and improve productivity in the field.
APM: Describe a memorable moment with a customer and what they said about your product?
Flowfinity: Flowfinity helped a property management company eliminate two hours of meetings each week and reduce invoice cycles from 1.5 days each month to just half an hour.
This property manager implemented Flowfinity to replace paper forms with mobile apps for their field technicians. The property manager also saw the field technician's work, and could check the progress of jobs in real-time.
He went on to say: "I looked for other applications in the marketplace, but I couldn't find anything that suited our needs as a property management company. What attracted me to Flowfinity was the ability for us to customize mobile workflows to reflect the way we do business. We use Flowfinity to dispatch and manage all of our maintenance and repair work orders on smartphones."
APM: Pick a specific feature of the product and tell me in detail why this feature stands out to you and your own experience with it.
Flowfinity customers appreciate the fact that they can customize their mobile solution exactly the way they need to, without having to change their business to match the software. The flexibility of the software means that different departments can take advantage of the software, whether they are using it for managing data, teams, maintenance jobs, sales, or anything else that requires mobile access to company data in the field.
APM: If we talked to your top three customers, how would they describe your product?
Our customers typically see Flowfinity as an essential mobile solution for managing their field operations in real-time. It comes with a centralized database, which allows two-way transactional data to be retrieved or submitted from just about any mobile device. Flowfinity maintains device support for the most popular smartphones and tablets on an ongoing basis, which keeps our customers' software investment protected even when mobile device popularity or mobile device strategies change within the organization.
APM: Is there anything else you would like your customers to know?
For property management companies looking to provide better tenant services, streamline workforce management and carefully manage time charges and materials usage with smartphones or tablets, Flowfinity goes beyond simple mobile data collection. Flowfinity is a flexible and adaptable enterprise mobile app solution that provides the depth of functionality and database support to meet complex data collection and workflow requirements. To learn more please visit www.flowfinity.com
To Sum It Up!
Managing day-to-day activities is stressful especially as the to-do list becomes longer. Flowfinity's mobile application eliminates stress and streamlines tasks into one easily customizable place. Property managers can take back the control of their day and make better use of their time.