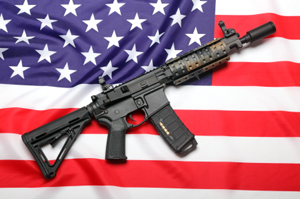 By Tracey March
Every day in our country about 289 people are shot, some deliberately and some by accident. A gun in the home is 22 times more likely to be used to kill or injure someone in a domestic murder, suicide, or accident than to be used in self-defense. (From the Brady Campaign to Prevent Gun Violence.)
Given these troubling statistics, many landlords and property managers have been wondering if their property rights allow them to limit gun ownership in their rental properties without violating the Second Amendment right to bear arms. The answer is yes. The Second Amendment is a limit on government power, not a limit on private citizens. And if a private citizen landlord wants to ban guns in his or her rental properties, there is no Second Amendment violation.
Gun owners who are told they can no longer keep their guns may claim they are being discriminated against, but they will find no support in fair housing laws as gun owners are not considered a protected class under those rules.
However, if you do want to limit or prohibit firearms on your rental property, implementing and enforcing those policies could be difficult. Landlord tenant law requires you to wait until the end of each tenant's lease and include the limit or ban in the new lease or in a set of House Rules that your tenants sign when they renew.
And what if you suspect your tenants are keeping a firearm in a rental unit, in violation of your established policy? You might have a hard time verifying that a gun is being stored on the premises because state privacy laws may prevent you from doing an inspection. However, if you do have proof of a violation, and your tenants have agreed in the lease to abide by your policy, you can initiate an eviction.
Finally, a limited number of states, like Minnesota, have enacted laws that prohibit landlords from limiting tenants from owning firearms, so if you are thinking about limiting or banning firearms on your rental property, make sure that doing so won't violate your state's laws.
As always, the information provided here is just that–it is for informational purposes only and is not legal advice. If you have any particular questions or issues, please consult an attorney.
In most states, involving an attorney in a residential real estate transaction is optional. If you're using a realtor to help sell your rental and there is nothing out of the ordinary about the transaction, you probably don't need a lawyer.
However, if you're selling a rental under one or more of the following conditions, consider seeking advice from an experienced real estate attorney:
Seller-financing: an attorney will advise you on the best way to structure the deal to protect you and the rental property.
Short sale or foreclosure: an attorney will help negotiate with your bank, protect your other assets, and limit your personal liability.
Uncooperative tenant in the rental: an attorney will advise you about your rights and obligations under the lease agreement, and help transition the rental business to the new owner.
Executor or personal representative: an attorney can help probate the will (if necessary), advise you on how to deal with conflicts between beneficiaries, and help limit your liability and stress by making sure the sale is handled appropriately.
Co-own with a reluctant seller: an attorney will advise you on how to protect yourself if the reluctant seller changes his or her mind.
Complicated properties: if there's a title problem, an issue such as questionable water rights or possible environmental contamination, an attorney will advise you on which disclosures must be made and help you figure out which issues to resolve prior to sale.
Judgments or liens: an attorney can help negotiate payoffs and develop strategies to protect your other assets.
LLC or corporate owner: if your business owns the property, and not you personally, an attorney will help draft the documents authorizing the sale and assist with debt payoffs, distribution of the proceeds among owners, reinvestment and tax implications.
In a few eastern states you may be required to involve an attorney. In most states you are free to go it alone, but remember that an ounce of prevention is worth a pound of cure. Hiring an attorney to prevent trouble, minimize liability, and give you peace of mind might be worth the money.
By Tracey March
Compared to 2006, homes today are more affordable but qualifying for a mortgage is more difficult. If you want to sell your rental home more quickly and you don't need the cash immediately, you can increase your pool of potential buyers if you finance the sale yourself. This requires thinking outside the box and a willingness to be flexible, but if you find a buyer you're comfortable with and get good legal advice, it can be a win-win situation for both parties, with less paperwork and closing expenses to boot.
Related: Selling Property and Taxes
Seller financing is just that–the seller finances the sale of the real estate. With seller financing you forgo getting all of your cash at closing and instead put the buyer on a payment plan. There is a great deal of flexibility with payment options, depending on your and the buyer's needs:
The down payment can be large or small.
Buyers usually pay on a monthly basis over a specified term, and often with a balloon payment due on or before a certain date.
Buyers can send payments to you directly, but the preferable option for both parties is usually to have the payments go through a title company, which tracks payments and interest. The title company will also hold title documents for the parties and record them when the payments and interest have been made in full, which assures the buyer that when the loan is paid, the appropriate documents are recorded.
Interest rates are typically higher than conventional loan rates, but be careful not to violate your state's usury laws.
There are typically two ways for a seller to finance a real estate deal: the buyer gives a promissory note (detailing the repayment terms) and a Deed of Trust is recorded, or the seller and buyer enter into a Real Estate Contract (or land contract), which is recorded. A key difference between these two options is that with a note and deed of trust, title to the property transfers to the buyer. However, with a real estate contract, the seller retains title until the property is fully paid for. Typically, in the case of a default, a real estate contract is the preferred option for the seller because the process of getting the property back is more efficient.
Because real estate financing options vary by state, make sure you consult with an attorney to find out what options are available to you and their costs and benefits.
As always, the information provided here is just that–it is for informational purposes only and is not legal advice. If you have any particular questions or issues, please consult an attorney.