Are Landlords Liable for Unsupervised Kids? You Betcha!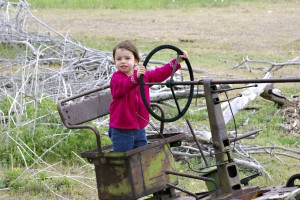 By Henry Hall

When you leased your house in the country to a family with young children you told the parents they were getting a rent discount because the home came with an slight eyesore: a rusted out piece of farm equipment you were storing in the back yard. Nonetheless, the home sat on over three acres and there was plenty of room for the kids to play and parents to walk and garden. The farm equipment hadn't been used in a generation, and you just hadn't gotten around to disposing of it.

You cautioned the tenants to make sure they didn't let their kids play on the machinery. You didn't think it was dangerous, but you also knew it wasn't a toy. Both mom and dad agreed. To an adult, an old tractor, a car sitting on blocks or an empty shed, wouldn't get a second look. But to a precocious child with a vivid imagination, they are extremely attractive objects for exploration and hours of make-believe fun. And in tort law, these items are known as "
Attractive Nuisances.
"


Related: Five Landlord Liabilities That Might Surprise You


As a landlord, you are financially liable if a child is injured while playing on or around something you should have foreseen would be too interesting for a child to ignore. That would be the case for the children of your tenants, even if they were unsupervised. And, in some cases, it might even apply to kids who found your potentially dangerous object so interesting that they trespassed on your land to play with it.

Here are some common precautions to avoid liability for an attractive nuisance:


Have old appliances hauled to the junkyard


Tow away non-running vehicles


Dispose of any construction materials immediately after the work is complete


Lock and secure all power tools


Remove doors or covers from large appliances awaiting garbage pick up


Most importantly, if you're not sure whether you have an attractive nuisance on or near your property, talk to your insurance professional. And consider
making renters insurance a condition of tenancy
. Regardless of the precautions you take,
you can't think of everything
.

Being a landlord comes with a lot of responsibility.

 
Find Property Managers Near You
Select Property Type
Single Home or Condo (Valued up to $300K)

Single Home or Condo ($300K to $500K)

Single Home or Condo ($500K to $1 Million)

Single Home or Condo (Over $1 Million)

Multi-Family (2-4 units)

Multi-Family (5-19 units)

Multi-Family (20-99 units)

Multi-Family (100+ units)

Homeowners Association (2-49 units)

Homeowners Association (50-99 units)

Homeowners Association (100+ units)

Condominium Association (2-49 units)

Condominium Association (50-99 units)

Condominium Association (100+ units)

Retail (Up to 9,999 sqft)

Retail (10,000 - 100,000 sqft)

Retail (100,000+ sqft)

Office (Up to 9,999 sqft)

Office (10,000 - 100,000 sqft)

Office (100,000+ sqft)

Warehouse/Distribution (Up to 100,000 sqft)

Warehouse/Distribution (100,000+ sqft)

Light Manufacturing (Up to 100,000 sqft)

Light Manufacturing (100,000+ sqft)

Parking Garage

Biotech/Mission-Critical

Vacation (1-2 units)

Vacation (3+ units)

Other Associations (Hotel, Resort etc.)

Mobile Home Community