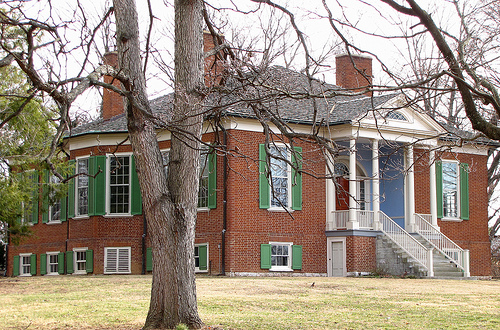 photo credit: jimbowen0306
The bluegrass state of Kentucky offers the beauty of rural life while at the same time being a short driving distance to city activities. The 120 counties of Kentucky have a population of four million, with an average of 101.7 persons per square mile. Kentucky homeowner rate is 70.8% of the population and there are many real estate properties for everyone. The average home price is $140,000 and the cost of living in Kentucky is 21.35% lower than the United States national average.

For lovers of city life, Kentucky offers Louisville, its most populated city, and Lexington, which is the second most populated. The Lexington area is a mix of panoramic city views and the rolling terrain of horse farms. In order to protect the rural identity the area is known for, Lexington has enacted an urban growth boundary to ensure that new growth only occurs in urban service areas. The Kentucky cities of Covington and Newport are a part of the greater Cincinnati, Ohio metro area. In addition to offering numerous activities in these areas along the Ohio River, real estate in these cities are a few minutes? drive to the city of Cincinnati.

The Kentucky housing market also offers the landscape that is sought by those who prefer a rural environment. Forestlands cover approximately 40% of the state, along with multiple lakes and rivers. Mammoth Cave, which is the longest cave in the world, is located in Kentucky. Horse farms are abundant and available in the housing market for this state.

The real estate market in Kentucky provides something for everyone at an affordable cost. This area should be considered when you are contemplating relocation to a spot that offers you both quiet country landscape and the nightlife of the city. Both are available to you within short distances.
Find Property Managers Near You
Select Property Type
Single Home or Condo (Valued up to $300K)

Single Home or Condo ($300K to $500K)

Single Home or Condo ($500K to $1 Million)

Single Home or Condo (Over $1 Million)

Multi-Family (2-4 units)

Multi-Family (5-19 units)

Multi-Family (20-99 units)

Multi-Family (100+ units)

Homeowners Association (2-49 units)

Homeowners Association (50-99 units)

Homeowners Association (100+ units)

Condominium Association (2-49 units)

Condominium Association (50-99 units)

Condominium Association (100+ units)

Retail (Up to 9,999 sqft)

Retail (10,000 - 100,000 sqft)

Retail (100,000+ sqft)

Office (Up to 9,999 sqft)

Office (10,000 - 100,000 sqft)

Office (100,000+ sqft)

Warehouse/Distribution (Up to 100,000 sqft)

Warehouse/Distribution (100,000+ sqft)

Light Manufacturing (Up to 100,000 sqft)

Light Manufacturing (100,000+ sqft)

Parking Garage

Biotech/Mission-Critical

Vacation (1-2 units)

Vacation (3+ units)

Other Associations (Hotel, Resort etc.)

Mobile Home Community