Manage your home from your phone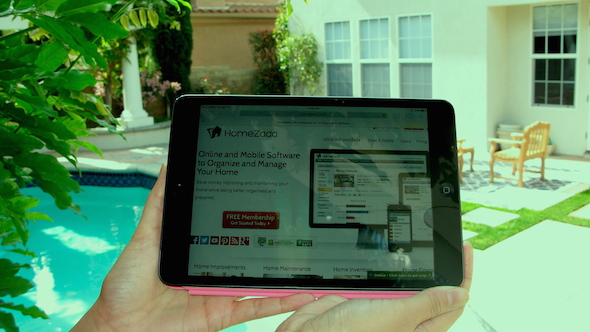 Remembering what type of light bulbs are needed for a property is the last thing a property manager, who spends each day overseeing several aspects of maintaining a property, wants to think about. However, home maintenance is always a high priority. Whether or not property managers and homeowners like it, recording the last time upgrades were done and appliances were replaced is a must. With HomeZada, property managers can easily oversee home management projects, track the finances for these projects and record maintenance and upgrades. Now managing the small details in property management can all be done within one cloud-based system. We spoke with Elizabeth Dodson from HomeZada to learn more.


APM
: It would be really helpful if you could introduce HomeZada to our property managers.


Elizabeth
: HomeZada is online home management software that helps you manage everything about your home in one place. What we mean by this is, it helps you manage home inventories for any of your possessions or fixed assets in the home.
We classify possessions as what goes into a moving truck and your fixed assets are things that belong to the house whether it is equipment like HVAC equipment or whether it's walls, cabinets, sinks things of that nature.
HomeZada allows you to track home maintenance. We provide a calendar with 30 of the common home maintenance projects to get you started. There are over 150 more that you can choose from in the actual calendar. You can customize and personalize your maintenance with your own activities also. The maintenance calendar provides email alerts for upcoming tasks so you can take action accordingly.
The third thing it allows you to do is track home projects. Let's say you have a property manager for a house with an upcoming project. They can take the whole project and say, "I need to update the house. Here are all the things I need to select. Here are all things I need to shop for. Here are all the things I need to start budgeting for. How do I conduct all these projects, and over what period of time?" HomeZada helps to oversee all aspects of the project lifespan.
Most home- owners cannot do them all at once. They need years to do all these so they can schedule that over time.
HomeZada also tracks finances for specific houses. In the case of property managers, they can manage up to three properties in HomeZada, the consumer version. In HomeZada the professional version, they can manage as many properties as they want.
APM
: I was actually wondering if this is something that you do see property managers using instead of the individual homeowner, too.
Elizabeth
: We actually have property managers engaging with the solution now.
APM
: Oh that's great. Are there a lot of products out there like this? What makes you stand out from other home management software?


Elizabeth
: Ironically, I waited for this product for 10 years. I thought someone else was going to build it because I was working at another technology company. I kept saying to my co‑founders, while I worked with at the technology company, "There must be a tool that can help us do this because our previous technology company helped manage multi‑million dollar buildings." I looked and looked for 10 years, and I couldn't find anything. My co‑founders said, "You're onto something. I think we need to figure this out. We need to start another company."
That's how HomeZada came to be. There isn't anything that does exactly what we do on the market. Everything that we make at HomeZada is a cloud- based solution. A lot of people appreciate the cloud‑based technology because of the importance of accessing technology anywhere. A property manager for example, can manage five different properties in five different locations, whether it's in the same city or whether it's in five different cities.
Property managers need to be able to access the property data whether it's on their phones, their tablets, their computers from anywhere in the world.
APM
: What kind of customer feedback have you heard about this?


Elizabeth
: We have great customer feedback. We have a lot of customers worldwide both on the consumer side and on the professional side. On the consumer side, they are telling us they love our product. It's their best friend. They can't believe it didn't exist before this. I can believe that because I was in the same boat.
They also help place requests. Groups of customers actually engage in feature and enhancement requests. This means they are also committed to the product. They really are interested in seeing more features as am I. That's why I am excited that they are actually validating some of the things that I want in the product for my co‑founders.
On the professional side, we break up HomeZada into four major professional groups that we service: real estate, residential construction, insurance and service providers. Property managers, professional organizers, inventory professionals all fit into the category of service provider.?
People from each category engage and show interest in the product each for different reasons. Real estate and insurance agents love it and recommend us to their clients. They are gifting HomeZada with their branding inside the solution and ?recommending it.
Builders want to see data inside the solution. They want to say, "OK, I need to transport information to the consumer after the new construction is done."
They're might giving their clients binders of information. Now they can give them and electronic format that they can continue to update and manage.


Like this article? Check out other similar articles with information on technology resources on our
Property Management Tech Tools Page!
Find Property Managers Near You
Select Property Type
Single Home or Condo (Valued up to $300K)

Single Home or Condo ($300K to $500K)

Single Home or Condo ($500K to $1 Million)

Single Home or Condo (Over $1 Million)

Multi-Family (2-4 units)

Multi-Family (5-19 units)

Multi-Family (20-99 units)

Multi-Family (100+ units)

Homeowners Association (2-49 units)

Homeowners Association (50-99 units)

Homeowners Association (100+ units)

Condominium Association (2-49 units)

Condominium Association (50-99 units)

Condominium Association (100+ units)

Retail (Up to 9,999 sqft)

Retail (10,000 - 100,000 sqft)

Retail (100,000+ sqft)

Office (Up to 9,999 sqft)

Office (10,000 - 100,000 sqft)

Office (100,000+ sqft)

Warehouse/Distribution (Up to 100,000 sqft)

Warehouse/Distribution (100,000+ sqft)

Light Manufacturing (Up to 100,000 sqft)

Light Manufacturing (100,000+ sqft)

Parking Garage

Biotech/Mission-Critical

Vacation (1-2 units)

Vacation (3+ units)

Other Associations (Hotel, Resort etc.)

Mobile Home Community