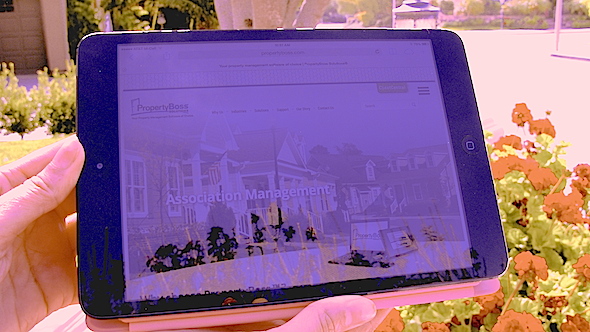 Many property managers dream of expanding their property management companies. However, there are cost increases such as property management software associated with growth. Property Boss Solutions supports their property manager's growth by using an unlimited pricing unit model. We spoke to Mario Villanueva, from Property Boss Solutions to learn more.


APM
: Would you mind giving us an overview of Property Boss Solutions?


Mario
: Sure. There are a couple of services we provide. We offer property management software and website design for property management companies. We offer web services like online payments that are tied to our software. This can either be tied into a third party site, where we integrate the services into an existing site, or we can do a brand new site that contains these services. We spend most of our time focusing on property management and handling the website services.
The company began in 1998. At that point it was designed for residential management, and it covered tracking management fees, paying owners and doing owner statements. From there, Property Boss Solutions grew to where we're involved in multi‑family management, commercial management, association management, student housing, senior living, affordable housing and storage units.
With Property Boss you can customize the system, integrate your processes into the system and design a language specific to your portfolio. We expanded into all these different industries.
If someone were to ask me, "What are the main strengths of Property Boss," I would say it's the power of choice. We offer a web‑based option. We also offer a self‑hosted option, where you can purchase and own the software. The customer can decide what is the best fit for their organization.
For some folks who have the infrastructure to host an application themselves, the self-hosted option makes a lot more sense for them. Other companies don't have the infrastructure to host an application themselves. In this case a web‑based option is more convenient. They don't have to go buy a server or keep an IT person on file.
The choice is up to the customer. You can start web‑based, and from there you can migrate to the self‑hosted option and run Property Boss indefinitely. We offer a perpetual license. We also offer a choice in regards to accounting. We have an internal general ledger, and an interface to QuickBooks. If someone is using QuickBooks, and find they grew too large for QuickBooks to efficiently manage their properties, Property Boss can step‑in as the front‑end. You can see all your properties, tell which tenants are late, what available properties you have and what work orders are in process. Property Boss can also print checks or financial statements.
Having all these options might make it difficult for some companies to support. You need to collect information from the client in order to understand, "What is your specific configuration?" However, Property Boss Solutions believes this is a better option long‑term for a client. Clients design their own Property Boss system and integrate the power of the choices they make and the processes that are important to them.
APM
: Can you maybe describe some of your favorite features?


Mario
: Sure, when it comes to residential management, you are managing on behalf of other owners. Property Boss helps tie management fees to the transactions. It's not a situation where you have to go into the software and claim your management fees. Property Boss has a balance associated with each owner. You can also set a reserve amount for the owner's balance and hold the bill if there are not sufficient funds. Being originally designed for residential management helps our application. The experience of being in the industry helps how we approach accounting for our property managers.
Another big advantage is our web-option. Online applications, resident portals, owner portals are all available with our software. You don't have to go with our web‑based option in order to have portals. If it makes more sense for your company to purchase the software, we can still offer owner portals, tenant portals, online applications and vendor portals. All of this is still available. I think the power of choice we provide is a powerful advantage.
APM
: Great! If we were to talk to your top three customers, what do you think they would say about the products?


Mario
: Well, we are willing to work closely as a partner with our clients. For years we have been receiving great feedback from our property managers, as to what they would like to see in the product, and their feedback is used in future implementations. It's more of a conversation about, "What do you want to get out of the program, and how can we enable that growth?"
We also offer an unlimited unit pricing model. This works really well in the residential industry. Basically, the more properties you're managing the more management fees you can collect.
You're not penalized for growth once you've use Property Boss. Property management software makes you more efficient. It is how property managers can maximize growth on the front‑end. With Property Boss, as you add additional units, there are no additional fees.
APM
: I can definitely see how property managers would appreciate that, especially if they are trying to grow. Usually, there is some sort of cost associated with that. I think they would really appreciate that.


Mario
: Right.
APM
: What do you think makes you stand out from your competition then?


Mario
: Well, certainly the fact that we offer both a web‑based and a self‑hosted option. That's becoming more rare nowadays, and we do not plan on doing a strictly a web‑based option. We've way too many clients hosting the application themselves. I also have not see the level of customization you can do in Property Boss in other property management tools. You can create an unlimited number of custom fields, and then design custom reports to incorporate the data from those fields.
You can create custom, what we call "Work Order Groups" in Property Boss. If you need to track activity around collections, or for associations for example, violations, any activity that is meant for your property management business, you're able to track all of that in Property Boss with the core product. It goes far beyond just giving you the ability to see what a tenant's balance is, or see what properties are available. It is a deep enterprise system. You can see the activity from your entire team, and analyze the important metrics for your business to enable that growth.
APM
: Is there anything else you would like your customers to know?


Mario
: Our options across a variety of industries, contributes to our client's success. For example with our unlimited unit model, someone can have 30 HOA's and 1,000 residential units, and it's not going to cost them $3,000 a month to use our product. As they bring in additional associations and properties, they are also simply bringing more money in for their businesses.


To Sum It Up!

Property Boss Solutions is property management software that provides property managers the choice between choosing a web-based option or a self-hosted option. Property Boss Solutions can customize their experience with the software, and should they continue to expand they can take comfort in knowing that they use the unlimited pricing unit model.

Like this article? Check out other similar articles with information on technology resources on our
Property Management Tech Tools Resources Page!
Find Property Managers Near You
Select Property Type
Single Home or Condo (Valued up to $300K)

Single Home or Condo ($300K to $500K)

Single Home or Condo ($500K to $1 Million)

Single Home or Condo (Over $1 Million)

Multi-Family (2-4 units)

Multi-Family (5-19 units)

Multi-Family (20-99 units)

Multi-Family (100+ units)

Homeowners Association (2-49 units)

Homeowners Association (50-99 units)

Homeowners Association (100+ units)

Condominium Association (2-49 units)

Condominium Association (50-99 units)

Condominium Association (100+ units)

Retail (Up to 9,999 sqft)

Retail (10,000 - 100,000 sqft)

Retail (100,000+ sqft)

Office (Up to 9,999 sqft)

Office (10,000 - 100,000 sqft)

Office (100,000+ sqft)

Warehouse/Distribution (Up to 100,000 sqft)

Warehouse/Distribution (100,000+ sqft)

Light Manufacturing (Up to 100,000 sqft)

Light Manufacturing (100,000+ sqft)

Parking Garage

Biotech/Mission-Critical

Vacation (1-2 units)

Vacation (3+ units)

Other Associations (Hotel, Resort etc.)

Mobile Home Community