Save Time and Money With a Conflict Resolution Hotline
Tempers can run hot when it comes to homeowner and condominium association disputes. After all, when associations either pass a new rule or enforce an old one, they are quite literally hitting homeowners where they live. From the homeowners' perspective, there's no escaping your association without uprooting one's entire life.

Because of this tendency for tempers to flare, we've all seen petty disputes escalate to all-out war, demanding a lot of time and money from all parties involved when little to none of both should be required.

One easy and cost-effective technique for handling such disputes is to participate in or create an HOA conflict resolution hotline. These hotlines are phone numbers (or sometimes email addresses) operated by a third party, someone not involved in the dispute who is seen as knowledgeable, neutral and credible to both parties. They work because, in times of conflict, you can quickly calm things down and steer negotiations toward an amicable end merely by getting a third party involved.


Combine Mediation With Your Conflict Resolution Hotline


A conflict resolution hotline is not a court of law. They typically lead either to an education process, where the complainant may realize from an initial conversation that they don't have a legitimate case, or some variant of mediation, a non-binding, voluntary process that is typically less expensive than settling things in court.

According to the New York City Bar Association, about 70-80% of cases that make it to mediation are settled at that point. This means that there is the potential for substantial cost savings in routing disputes toward mediation rather than taking them to court.


The Volume and Content of Conflict Resolution Hotline Calls


Prepare to be surprised by the volume and nature of complaints that come in through your conflict resolution hotline, should you set one up. For example, when the Colorado Division of Real Estate established and publicized such a hotline, they fielded thousands of complaints of a surprisingly serious nature. "We went in with the assumption that we'd get a lot of ticky-tack complaints," said one Colorado official. "We were wrong. Most of the issues were major ones."

Colorado officials broke down most of the complaints filed through the hotline into the following categories:



Records and transparency issues: 17% of all complaints
Boards not following governing documents: 14% of all complaints
Boards not listening to homeowner concerns: 13% of all complaints
Failure to perform maintenance: 12% of all complaints
Homeowner harassment: 11% of all complaints

Costs of Implementing a Conflict Resolution Hotline


There are two layers to think about when it comes to the cost of setting up a conflict resolution hotline: the cost of setting up a separate phone line and paying someone to answer it. These costs will be significant, regardless of your association, but can fortunately be amortized across as many different properties as you can imagine. Your HOA may also be able to piggyback on an existing program in your area to minimize your costs.

Then there's the cost of mediation itself, which is typically just a few hundred dollars. While this is by no means an insignificant amount of money, it is well below the cost of taking a dispute to trial or even to mandatory arbitration.


The Role of Hotlines Within Institutions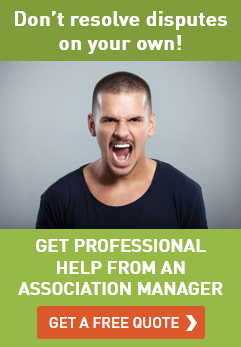 A hotline can be a valuable way to hold your association to a high standard. It's a vital tool that enables whistleblowers to effect change without having to air out problems with media or law enforcement, and may prevent bigger lawsuits for your association down the line.

Other professions and institutions have made hotlines an integral part of their own standards for accountability. For example, according to the
Journal of Accountancy,
in the accounting industry "internal tips were cited by business and industry CPAs [in a survey] as the most common detection method for frauds that occurred at their organizations."


Should You Set Up a Conflict Resolution Hotline?


It's inevitable that all association board members will need to resolve unpleasant disputes at some point during their tenures. While dealing with these disputes is unavoidable, facing them alone is not. Implementing a conflict resolution hotline is an effective method for bringing in experienced third parties to help your association field and respond to homeowner complaints - and avoid escalating their issues into costly litigation in the process.

Unfortunately, conflict resolution hotlines are not for everyone as they can be costly and time-intensive to set up and staff. In comparison, professional association managers serve as conflict resolvers and legal advisors at no extra cost to the fees they charge for the highly-valuable services they usually provide, like dues wrangling and maintenance managing. If you would like to save time, energy and money by having a professional association manager resolve disputes on your behalf, we strongly urge you to get a free quote from one.
Click here
to browse a list of our favorite association managers.
Find Property Managers Near You
Select Property Type
Single Home or Condo (Valued up to $300K)

Single Home or Condo ($300K to $500K)

Single Home or Condo ($500K to $1 Million)

Single Home or Condo (Over $1 Million)

Multi-Family (2-4 units)

Multi-Family (5-19 units)

Multi-Family (20-99 units)

Multi-Family (100+ units)

Homeowners Association (2-49 units)

Homeowners Association (50-99 units)

Homeowners Association (100+ units)

Condominium Association (2-49 units)

Condominium Association (50-99 units)

Condominium Association (100+ units)

Retail (Up to 9,999 sqft)

Retail (10,000 - 100,000 sqft)

Retail (100,000+ sqft)

Office (Up to 9,999 sqft)

Office (10,000 - 100,000 sqft)

Office (100,000+ sqft)

Warehouse/Distribution (Up to 100,000 sqft)

Warehouse/Distribution (100,000+ sqft)

Light Manufacturing (Up to 100,000 sqft)

Light Manufacturing (100,000+ sqft)

Parking Garage

Biotech/Mission-Critical

Vacation (1-2 units)

Vacation (3+ units)

Other Associations (Hotel, Resort etc.)

Mobile Home Community