Top Five Property Management Websites
By Tracey March

Do you ever wonder which property management websites have the most useful information?

Here's a collection of the Top Five Property Management Websites we seek out the most when we have questions about rental property, landlords, tenants, leases, and other property management-related issues. We thought you might be interested in checking out these favorite go-to sites--in addition to,of course, allpropertymanagement.com!


[caption id="attachment_5991" align="aligncenter" width="500"]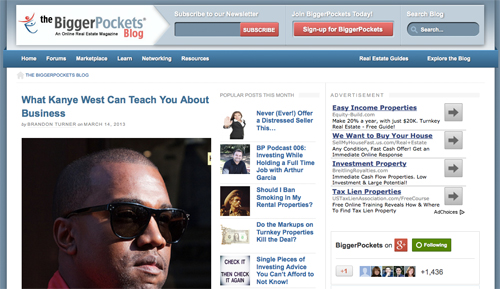 Screenshot of biggerpockets.com blog.[/caption]

The Bigger Pockets blog touts itself as an online real estate magazine, but it's actually more specialized than that: it focuses on helping regular people who want to know more about investing in real estate, and it also gives advice on what to do with your investment rental property once you own it.

Those who are part of the biggerpockets.com network write the blog posts. Topics for rental property owners run the gamut, and include landlord tenant tips, landlord and renters insurance, tenant security deposits, evictions, how to rent your house, tenant screening advice, and much more. You'll find also loads of investment advice, including a free Beginner's Guide to Real Estate Investing, tips on how to rent your investment property and negotiate real estate deals, information about buying foreclosure properties, and other useful information.


[caption id="attachment_5992" align="aligncenter" width="500"]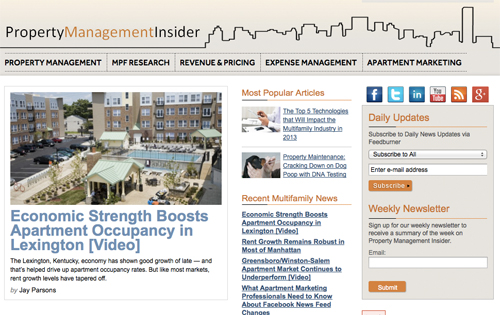 Screenshot of Property Management Insider homepage.[/caption]

Property Management Insider is more focused on providing news and information for the multi-family industry, but many of the articles and information are relevant to other types of rental properties.

The Property Management section of the site is updated about once or twice a week, and includes information such as landscaping for apartment properties, how to get your property management career started, resident retention, and whether your rental property should be smoke free.

The site also has useful sections on:


Multi-Family Research: where are the growth markets?
Revenue and Pricing: should you increase your rental rates?
Expense Management: how to reduce energy and utilities bills, high cost of allowing smoking, should you require renters insurance?
Apartment Marketing: how can you use the Internet to market your business and rental properties?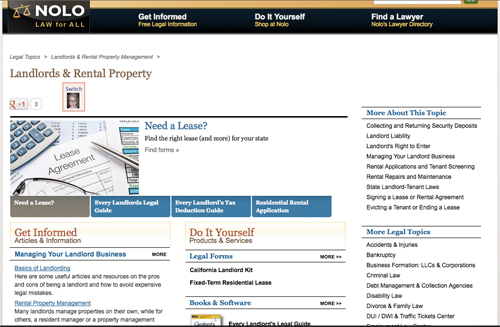 Nolo.com is a great how-to and legal resource for landlords and tenants, as well as property managers. I have used the nolo.com site several times for personal and business use and have always found the articles to be well-written and informative. The website has a whole section dedicated to Landlords and Rental Property, and covers topics such as:


Managing a landlord business
Lease and rental agreements
Eviction procedures
Termination of leases
Repairs and maintenance
Landlord Liability


Nolo even has a chart of landlord tenant statutes by state (although it would be great if the statute references would hyperlink to the actual statutes).

As with most websites, there is a marketing angle, so be prepared to be tempted to buy a nolo.com publication. I've never actually bought one before, but I would anticipate that anything nolo.com produces has some good advice.


[caption id="attachment_5993" align="aligncenter" width="500"]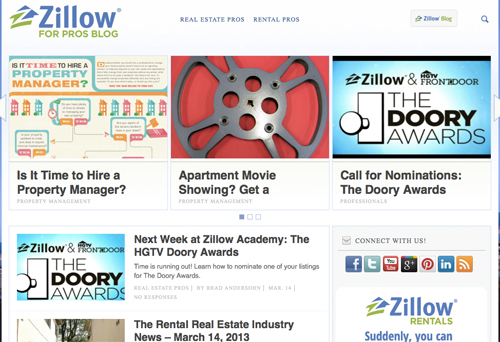 Screenshot of Zillow for Pros Blog.[/caption]

The Zillow for Pros Blog is definitely one of the big fish websites in rental real estate. The blog includes articles on landlord tenant rights issues, tenant retention, renters insurance, running a property management business, property maintenance, internet marketing, current events, and more.


[caption id="attachment_5994" align="aligncenter" width="500"]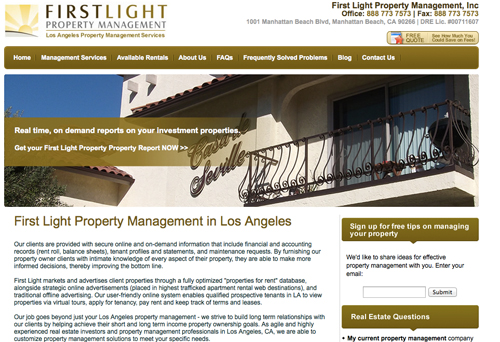 First Light Property Management home page.[/caption]

Finally, we thought we'd give you an example of a good property management company website. The First Light Property Management website may not be the most aesthetically pleasing one of those we've listed, but it's packed with useful information that more than makes up for the brown and yellow color scheme.

Property owners, tenants, applicants will find a number of resources available online. Property owner clients have the ability to generate financial, maintenance, tenant, and banking reports. The company's property management services--which include both property management and home owner association management--are described clearly. Properties available for rent are also listed. The FAQs and Frequently Solved Problems sections contain answers to common questions and set up expectations for how you will be treated as a client.

Although First Light's blog isn't updated super-frequently, the blog posts are on practical and helpful subjects, and they're easy to read. Topics include how to make your rental property stand out, fireplace safety, and pest control. Perhaps the most useful part of the blog is the Twitter feed coming from Trevor Henson, one of the owners. Mr. Henson's feed posts are always on a property management topic--he doesn't waste space with esoteric and unrelated information, which I, for one, appreciate.

Runner Up:

The
50 Interviews Blog
might have made the list for its frequent and useful blog updates, but their webpages loaded too slowly. I'd love to see them figure out a way to speed things up.

Do you have any favorite property management websites? We'd love to hear about them. Let us know by leaving a comment here, or by tweeting or commenting on Twitter and Facebook.
Find Property Managers Near You
Select Property Type
Single Home or Condo (Valued up to $300K)

Single Home or Condo ($300K to $500K)

Single Home or Condo ($500K to $1 Million)

Single Home or Condo (Over $1 Million)

Multi-Family (2-4 units)

Multi-Family (5-19 units)

Multi-Family (20-99 units)

Multi-Family (100+ units)

Homeowners Association (2-49 units)

Homeowners Association (50-99 units)

Homeowners Association (100+ units)

Condominium Association (2-49 units)

Condominium Association (50-99 units)

Condominium Association (100+ units)

Retail (Up to 9,999 sqft)

Retail (10,000 - 100,000 sqft)

Retail (100,000+ sqft)

Office (Up to 9,999 sqft)

Office (10,000 - 100,000 sqft)

Office (100,000+ sqft)

Warehouse/Distribution (Up to 100,000 sqft)

Warehouse/Distribution (100,000+ sqft)

Light Manufacturing (Up to 100,000 sqft)

Light Manufacturing (100,000+ sqft)

Parking Garage

Biotech/Mission-Critical

Vacation (1-2 units)

Vacation (3+ units)

Other Associations (Hotel, Resort etc.)

Mobile Home Community