What Makes a Good Rental Market?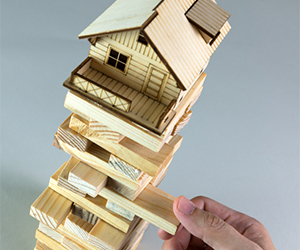 Ten thousand years of recorded history can't be wrong: Since the dawn of civilization, ownership of rental property has been the most reliable long-term source of wealth for kings and commoners alike. Whether you own land via the inheritance of divine right as a descendant of a line of kings, some watery tart threw a sword at you, you scrimped and saved your wages to buy your first piece of real property, or anywhere in between, you're probably aware of the potential of the unique combination of price appreciation, rental income, tax-deferred growth and leverage that rental real estate investment offers.


But where are the best places to own?
The answer to that question is likely different for everyone. But here are a few principles and considerations to keep in mind.


1) Low Vacancy Rates


Ask an accounting professor, and he'll tell you a rental property is an asset. And he'll tell you an un-rented rental property, sitting idle is still an asset. But if you're paying mortgage, insurance and taxes on a rental property that's sitting empty, it sure begins to feel like a liability real quick. And if it gets out of hand, it can be a disaster to the small landlord. A high vacancy rate hurts landlords in three different ways:


A vacant property isn't generating rental income
Decreases the landlords' ability to raise rents
This may impact price appreciation as well


According to All Property Management's own proprietary metric, the
Rental Property Investment Score
, the markets with the highest rental vacancy rates at the end of 2013 were as follows:


Orlando, FL 14.60%
Las Vegas, NV 14.10%
Tuscon, AZ 13.70%
Memphis, TN 13.40%
Salt Lake City, UT 13.20%


Yes Orlando, Las Vegas and Tuscon are very seasonal which can skew vacancy rates. It is best to look at specific cities and make an assessment about whether a chronically high city vacancy rate is going to affect your property, specifically.


2) High Cap Rates


The term "cap rate," or "capitalization rate," refers to the projected annual rental income of the property, divided by the current fair market value of the property. For example, a property with a 'cap rate' of 10 percent indicates that you will recover 10 percent of the purchase price back each year.

In theory, your cap rate should always exceed that of less risky alternative investments. Now, don't look at cap rates in isolation.
Detroit has a very solid average capitalization rate of 12.76 percent
- the highest in the country. But that just barely keeps the city even with its 12.10 percent vacancy rate! Sellers have had to discount property prices substantially to unload them.
25 percent of the population of the city has left
in the last 10 years and the city has
declared bankruptcy
. This means the city will have a hard time providing basic police, fire, education and recreation services to its residents until it emerges from bankruptcy - which will hurt rental values in the future.


3) Favorable Landlord-Tenant Laws


Many new investors neglect this criterion but it's an important one.
No landlord wants to evict
honest, struggling tenants, but if you own a rental property in this market, sooner or later, it's going to become an issue.

If the tenant fights you, how long will it take you to complete an eviction? Markets like San Francisco are notoriously pro-tenant/anti-landlord. Can you keep up your mortgage, insurance and tax payments on a property if it takes you upwards of
four months to get a problem tenant out
?

That's not to say you can't do very well in pro-tenant jurisdictions. But you should probably build the risk into your calculations, and keep enough cash reserves against the possibility of a lengthy eviction process.


4) Local Intelligence


The wisest businessman I ever knew growing up used to say, "Buy at the edge of town. Town will be there soon enough." This means rental real estate investors would do well to study the basics of economic cycles and urban planning. Eyes and ears on the ground locally can get you information about planned investments, developments, crime patterns and community problems well before they become news. You can be the eyes and ears in your community or
you can have a property manager doing it for you
- but there's no substitute for allies in the community looking out for your interests and keeping you up to date.

All Property Management is currently researching several major U.S. cities to help our real estate investors and property owners determine ideal locations in 2014. Check out our the latest Rental Property Investment Score (RPI) report posting
cities with the Highest RPI score
that offer the best combination of current rental yield, price appreciation potential and market economic stability. These factors tend to have the greatest impact on overall return on investment in rental housing.

Other helpful tools and tips:


Rent Versus Sell Calculator
Property Investment Calculator
5 Landlord Liabilities That Might Surprise You

Find Property Managers Near You
Select Property Type
Single Home or Condo (Valued up to $300K)

Single Home or Condo ($300K to $500K)

Single Home or Condo ($500K to $1 Million)

Single Home or Condo (Over $1 Million)

Multi-Family (2-4 units)

Multi-Family (5-19 units)

Multi-Family (20-99 units)

Multi-Family (100+ units)

Homeowners Association (2-49 units)

Homeowners Association (50-99 units)

Homeowners Association (100+ units)

Condominium Association (2-49 units)

Condominium Association (50-99 units)

Condominium Association (100+ units)

Retail (Up to 9,999 sqft)

Retail (10,000 - 100,000 sqft)

Retail (100,000+ sqft)

Office (Up to 9,999 sqft)

Office (10,000 - 100,000 sqft)

Office (100,000+ sqft)

Warehouse/Distribution (Up to 100,000 sqft)

Warehouse/Distribution (100,000+ sqft)

Light Manufacturing (Up to 100,000 sqft)

Light Manufacturing (100,000+ sqft)

Parking Garage

Biotech/Mission-Critical

Vacation (1-2 units)

Vacation (3+ units)

Other Associations (Hotel, Resort etc.)

Mobile Home Community