Last month we surveyed hundreds of property managers about the 2015 rental market. We wanted to understand more about the challenges facing rental owners and discover insights about the broader property management industry. Here's what we learned.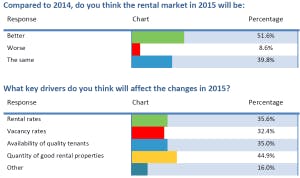 First, the good news: Property managers across the country are projecting a broad improvement in the fortunes of rental property investors in 2015.
Over 50% of the 2015 Rental Industry Survey respondents believe the rental climate will be better over the next year when compared to 2014.
The remaining 40% believe there would be no significant changes while only a small fraction, 8.6%, believe the conditions will be worse this coming year. 45% of the surveyed experts think the main key factor driving this rosy outlook is the quantity of good rentals. Followed by other industry drivers such as increasing rental rates, falling vacancy rates, and improved availability of good tenants.
Challenges
Now, the bad news: Most of our surveyed experts are having trouble communicating the unique value proposition that professional property management brings to the table. 
"Hiring a professional is the best way to ensure the greatest return on your investment property."
- Gail Phillips, Executive Director of NARPM®, CAE

By a nearly five to one margin, property managers believe that rental property owners just don't know the benefits of hiring a property management company. Too many of them won't know, either – until they experience a major investment property management setback, such as dealing with a major maintenance catastrophe that should have been prevented, or until they have to deal with evicting a problem tenant by themselves.

Common Misconceptions
According to our survey, respondents believe that property owners do not think that professional property management normally pays for itself – even without the influence of an intervening disaster. Yet, studies show that the due to lower tenant turnover and better tenant management overall, most property managers pay for themselves even before a calamitous situation occurs.
What are biggest misconceptions about professional property management?

35% of survey respondents say the negative perception that "the service does not pay for itself" is the biggest challenge they face.
32% think that the most challenging fallacy is "property owners will do a better job".
Finally, 22% believe the biggest myth is "property managers don't care about the properties they manage". OUCH.

Overwhelmingly, the property managers surveyed report that the biggest areas they need help with is property owners misconceptions about the industry, in particular their perception regarding property management fees.
What to Do?
Clearly, the industry as a whole has some work to do to educate their target market. Which is, of course, the role of the National Association of Residential Property Managers (NARPM®).
The Executive Director of NARPM®, Gail Phillips, says that this industry association is actively telling the story to property owners on why hiring a professional manager is the best way to ensure the greatest return on your investment property. Phillips explains, "The association has launched a very effective campaign around the value of our member's services and we'll continue to bring their story to the millions of do-it-yourself landlords and association owners."
> Download the Report: 2015 Rental Industry Trends Survey - Results

Do you have questions about how property manager services create savings that could cover their fees or increase your rental ROI? Connect with a local property management expert. 
Browse a list of our favorites
or call us at 877-215-9182.

We hope this article was helpful! Thanks for reading.




Author Bio Writing about personal finance and investments since 1999, Jason Van Steenwyk started as a reporter with Mutual Funds Magazine and served as editor of Investors' Digest. He now publishes feature articles in many publications including Annuity Selling Guide, Bankrate.com, and more.