I really want to become a property manager in Georgia, what are your recommendations?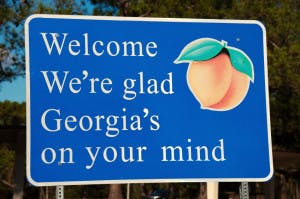 Well, that's terrific! Not too many people grow up wanting to deal with 2A.M. phone calls over clogged-up toilets and chasing down deadbeat renters for money before they load up their Ryder truck at midnight on a Saturday night and disappear leaving you with a headache and a pet-stained carpet. But hey, maybe we're a little too jaded.

I kid, I kid. Providing families with a nice place to live and raise their children, if any, and helping a property become more and more valuable over time and taking pride in those accomplishments make for a deeply rewarding career. You'll no doubt meet some terrific people – both landlords and tenants – and you'll make a very good living at the same time.

Want to Find a Local Property Manager?

If you're just starting out, you'll want to get yourself a real estate license. This is because the state of
Georgia
requires a real estate license in order to be involved in renting and leasing property, except in certain very limited circumstances. It is possible to begin working in the field – showing properties, handling maintenance issues, etc., without a license, but if you want to move up in the field, you'll want to have your own real estate salesperson license.

Here are the requirements to get the license in the State of Georgia:

Age: Must be at least 18 years old. However, applicants may take the examination at age 17 (license cannot be activated until 18 years old).
 High School: Must be a high school graduate or equivalent.
 Education: Must successfully complete 75-hour Salesperson Pre-License Course (or equivalent). In addition, salespersons must take a 25-hour, Post-License Course during their first year of being licensed.
 Experience: There is no experience requirement.
 Exam: Must pass the Salesperson's exam. The exam fee is $97. You must apply for the salespersons license within 12 months of taking the exam.
 Fees: If applying for the salesperson's license within three months of taking the exam, the fee is $170. If applying between 3-12 months of taking the exam, the fee is $340.


From there, you then go out and market yourself to property management companies just as you would for any other job. You won't be ready to hang out a shingle on your own yet, however, because Georgia requires licensed salespeople to work under the supervision of an individual with a broker's license. So this is something you may want to work toward once you have your real estate license and a few years of experience in the field.

Note that Georgia has a separate license for those involved in community association management.

Additionally, the
Institute for Real Estate Management (IREM)
has a number of professional certifications that you can work on as part of your professional development and continuing education. You don't need to worry about this stuff until after you have your real estate salespersons' license. But completing one or more certifications with IREM could help make you more competitive or more valuable to your employer. This is especially true if you don't yet have much experience to offer.

For more information, contact the
Georgia
State Real Estate Commission.

Once you're ready, go ahead and contact property management firms you may want to work for, or the management teams of properties in your area, and see if they're hiring. Generally, at the entry level, you'll be seeing job postings for 'leasing agents,' 'assistant leasing agents,' 'leasing consultant' and similar language. You may have more success searching for those terms than for the terms 'property manager' on job search Websites. Also, ensure your resume includes the term 'leasing agent' to help it pop up when employers search for that particular term.

Good luck, and post an update in the comments to let us know of your success!




Author Bio
Writing about personal finance and investments since 1999, Jason Van Steenwyk started as a reporter with Mutual Funds Magazine and served as editor of Investors' Digest. He now publishes feature articles in many publications including Annuity Selling Guide, Bankrate.com, and more.