Yes, you can run a credit check as part of your tenant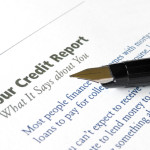 screening process – provided you have the applicant's permission. Indeed, if you're about to entrust the tenant with a valuable property, and you rely on the prompt payment of rent to make your own ends meet, then you probably should.

Running a credit check gives you an important reality-check and can help you uncover some serious background problems that have a high probability of recurring – especially if the credit problems are recent.

Want to Find a Local Property Manager?

It's a good idea to call the tenants' prior landlords as well, but you should understand this: If the applicant is a problem or headache, the old landlord has an incentive to give you a glowing reference just to get your applicant out of their hair.

Here are some of the things a tenant credit report can tell you:

• The number of times a tenant has been late or delinquent with credit payments – including student loans, car loans, and even mortgage and rent payments.

• Criminal convictions/arrest records (depending on the state).

• Eviction records (with some restrictions, depending on your state)

Generally, the bill paying information lasts up to 7 years on a credit report, but Chapter 7 bankruptcies will leave a footprint on a credit report for up to ten years.

What you need:

You need a completed rental application, plus their written consent to a credit check. The application and consent form should have the tenant's name, address and Social Security number (or taxpayer ID number, if the renter is a corporation or LLC).

Who to call:

That depends where you live. Most of the time, landlords will choose a local or familiar tenant screening service. These businesses have agreements with the Big 3 credit bureaus (Equifax, Experian and TransUnion).

These businesses can also frequently search databases for criminal history, sex offender databases, and in some cases help you with income verification. Here is one
sample report
we found online, from a company called Acutraq. Generally, the more reports you request, the higher your fee. However, you can cover this with a reasonable non-refundable application fee, depending on local laws.

Your obligations:

As a landlord, you have certain obligations under the
Fair Credit Reporting Act
. You cannot divulge the information you receive in the report to anyone else.

If you decline the application – or ask for an additional security deposit or any other consideration because of the applicant's credit history, you must disclose that to the applicant, and you must also tell the applicant where you got the information from – usually the tenant screening service. This is true even if you are simply requesting an additional cosigner on the lease. This allows the applicant to request a free copy of his or her credit report, which in turn allows the applicant to challenge anything in it that may be incorrect.

At a minimum, this notice must include the following information:

 the name, address and telephone number of the CRA that supplied the consumer report, including a toll-free telephone number for CRAs that maintain files nationwide;
a statement that the CRA that supplied the report did not make the decision to take the adverse action and cannot give the specific reasons for it; and
 a notice of the individual's right to dispute the accuracy or completeness of any information the CRA furnished, and the consumer's right to a free report from the CRA upon request within 60 days.


Federal law does not require you to disclose negative information you got from references, however. Just from credit reports.

For more information, you can visit the Federal Trade Commission's page on the topic for landlords, here.




Author Bio
Writing about personal finance and investments since 1999, Jason Van Steenwyk started as a reporter with Mutual Funds Magazine and served as editor of Investors' Digest. He now publishes feature articles in many publications including Annuity Selling Guide, Bankrate.com, and more.




Latest Answered Questions
Find Property Managers Near You
Select Property Type
Single Home or Condo (Valued up to $300K)

Single Home or Condo ($300K to $500K)

Single Home or Condo ($500K to $1 Million)

Single Home or Condo (Over $1 Million)

Multi-Family (2-4 units)

Multi-Family (5-19 units)

Multi-Family (20-99 units)

Multi-Family (100+ units)

Homeowners Association (2-49 units)

Homeowners Association (50-99 units)

Homeowners Association (100+ units)

Condominium Association (2-49 units)

Condominium Association (50-99 units)

Condominium Association (100+ units)

Retail (Up to 9,999 sqft)

Retail (10,000 - 100,000 sqft)

Retail (100,000+ sqft)

Office (Up to 9,999 sqft)

Office (10,000 - 100,000 sqft)

Office (100,000+ sqft)

Warehouse/Distribution (Up to 100,000 sqft)

Warehouse/Distribution (100,000+ sqft)

Light Manufacturing (Up to 100,000 sqft)

Light Manufacturing (100,000+ sqft)

Parking Garage

Biotech/Mission-Critical

Vacation (1-2 units)

Vacation (3+ units)

Other Associations (Hotel, Resort etc.)

Mobile Home Community