Are there opportunities to earn revenue on a property beyond rent? Washing machines, parking spots, etc.?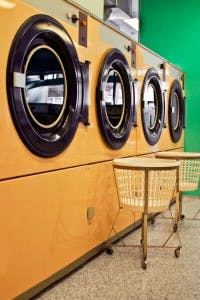 The opportunities are nearly endless, but they don't always work out as planned. When an obscure upstate
New York
dairy farmer named Max Yasgur rented out his alfalfa field to some concert promoters in 1968 for $10,000, his neighbors turned on him, he wound up giving away all the milk in his stores, and the 400,000+ hippies who attended the legendary Woodstock concert (400,001 if you count Joan Baez's unborn child) all but destroyed his farm. The concert also nearly bankrupted the concert promoters. Yasgur had to sue for damages to his farm (he eventually received a $50,000 settlement.) So maybe renting out your land for a giant rock festival isn't a sure winner. But there are plenty of other opportunities. Just keep an eye on zoning laws in your area.

Want to Find a Local Property Manager?
Residential rental property

Remember that episode of Taxi when the boss installed a Pac Man machine in the office,
got Jim Ignatowski addicted to the game,
and paid him his salary in the form of a sack of quarters? Well, that might be a little extreme. But if you're creative you can find ways to eke out some additional income from your property simply by providing goods and services that your tenants will be consuming anyway.


Build and rent storage sheds or garages on the property.
Put in a videogame arcade for the resident kids and guests.
Rent premium parking spots
Coin-op washers and dryers (though be careful with this. In-unit washers and dryers usually fetch a premium rental.)
Open a Laundromat next door.
Open a convenience store across the street.
Install a vending machine in the lobby.
Open a pizza delivery business down the street.
Contract with a pet-sitting service.
Lease out a café or restaurant space on the property itself.
Rent some shared office space to work-from-home types. Offer an answering service, Wi-Fi, meeting space, printing and FAX capabilities.


Note that some of these options come with complications. For example, a video arcade could be an attractive nuisance to the neighborhood kids, and requires upkeep, maintenance, possibly some management supervision and vigilance against theft and vandalism.

Owning a pizza restaurant can be a big project in itself (unless you're a limited partner in it). You have to know your tenants and what they need, and make the decision yourself. Be creative, but know your circle of competence. Not every landlord is up to running a separate business on the side.

Mineral rights

Have a good-sized piece of land? You can sell mineral rights on it – anything from clay to coal to gold has to be dug out of the ground, and there are mineral and energy companies who will pay you for it, if there is reason to believe that there are enough minerals in the ground to warrant the effort and investment.

You also get an extra tax benefit in the form of
depletion.
Parking

Is your property near a major attraction or event? Or even the airport? You can earn extra income by selling parking. In some areas,
it's big money.
Film and Video Production

The film production industry is always looking for places to shoot. You can rent your property to the film industry.
The California Film Commission has advice on how you can market your property.
Make sure you have permits. Especially if the content being produced on your property is, umm,
edgy.


Whatever you do, however, take a hard look at zoning laws in your area to make sure you don't run afoul of your local planning commission. They can slap you with some nasty fines if you don't dot all the T's and cross your eyes to their satisfaction.

Make sure you have appropriate insurance coverage in place, as well. Your standard homeowner's or landlord's insurance coverage may not cover liability generated as a result of operating a separate business connected to the property. Even if it's something as simple as erecting and renting out storage sheds in an apartment property, for example, that could involve additional environmental impairment risk that your insurance professional should know about and help you arrange appropriate coverage.




Author Bio
Writing about personal finance and investments since 1999, Jason Van Steenwyk started as a reporter with Mutual Funds Magazine and served as editor of Investors' Digest. He now publishes feature articles in many publications including Annuity Selling Guide, Bankrate.com, and more.