Generally speaking, no, you do not need to carry a property manager's license to rent your own property out to a third party.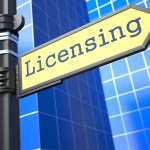 But… and there's always a 'but!'... you will likely need other licenses, depending on your jurisdiction. These requirements can vary significantly by county, not just by state, so there is no one-size-fits all, definitive guide to what licenses you must carry as a landlord. Here are some common licensing or permitting issues you may encounter, though:


 A franchise or business license. You may need one just to hold a corporation or LLC that owns your rental company. This isn't a specific requirement for real estate – it generally applies across the board to all industries. Check with the Secretary of State's office in your state for specifics. Occasionally, you may encounter a jurisdiction that requires a basic business license for each of your properties.

Want to Find a Local Property Manager?

A renters' permit. Some jurisdictions require a separate permit or license for each separate property or rental unit.
Certificates of occupancy or, for landlords who also reside on premises, an owner-occupancy permit.
 Sales tax license. Most states don't charge sales tax on long-term rentals or leases, but Florida charges a tax on rentals of less than 6 months. This may require a taxpayer ID number.


For specifics, check with your state and county departments of housing for information specific to your jurisdiction.

You may have to schedule an inspection prior to receiving the appropriate license, and make any repairs or improvements the inspector or the law requires prior to receiving a license.

If you choose to
hire a property manager
, the property manager must generally have either a property management license or a real estate brokers license or both, depending on the jurisdiction and how the manager is compensated.




Author Bio
Writing about personal finance and investments since 1999, Jason Van Steenwyk started as a reporter with Mutual Funds Magazine and served as editor of Investors' Digest. He now publishes feature articles in many publications including Annuity Selling Guide, Bankrate.com, and more.




Latest Answered Questions
Find Property Managers Near You
Select Property Type
Single Home or Condo (Valued up to $300K)

Single Home or Condo ($300K to $500K)

Single Home or Condo ($500K to $1 Million)

Single Home or Condo (Over $1 Million)

Multi-Family (2-4 units)

Multi-Family (5-19 units)

Multi-Family (20-99 units)

Multi-Family (100+ units)

Homeowners Association (2-49 units)

Homeowners Association (50-99 units)

Homeowners Association (100+ units)

Condominium Association (2-49 units)

Condominium Association (50-99 units)

Condominium Association (100+ units)

Retail (Up to 9,999 sqft)

Retail (10,000 - 100,000 sqft)

Retail (100,000+ sqft)

Office (Up to 9,999 sqft)

Office (10,000 - 100,000 sqft)

Office (100,000+ sqft)

Warehouse/Distribution (Up to 100,000 sqft)

Warehouse/Distribution (100,000+ sqft)

Light Manufacturing (Up to 100,000 sqft)

Light Manufacturing (100,000+ sqft)

Parking Garage

Biotech/Mission-Critical

Vacation (1-2 units)

Vacation (3+ units)

Other Associations (Hotel, Resort etc.)

Mobile Home Community