Hi, I was wondering about a certain situation.  What if you have an appointment with a property manager to view a house for lease? The property manager says that others have shown interest and that in fact there was a person that viewed the house right before you did and they decided to go ahead and fill out an application.  How does that work if you also want to fill out an application?  If both applications turn out to be equally good and there are no issues, who gets the lease?  Is it solely at the discretion of the property manager who they want to pick if they have two equal applicants, or is it whoever submitted their applicant first? I live in Austin, Texas.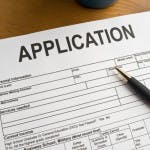 Understand it from the landlord's point of view: All things being equal, they want to rent to the tenant who is least likely to cause them problems. That's why you answer so many questions on the application.

Want to Find a Local Property Manager?

From there, most property managers will spend some time and money going over your application, verifying income and sources, pulling a credit record (with your permission) and calling your prior landlords for references.

If the application fee is reasonable and in line with what other property managers in your area are charging, it's probably just enough to cover the landlord or property managers' legitimate expenses in checking references.

The law does not require a landlord to rent to the first qualified applicant to turn in an application, though some landlords may adopt a first-come-first served rule like this in order to avoid being accused of unlawful discrimination. Texas law, does, however, require the landlord or manager to present you with the
tenant selection criteria
at the time you fill out the application, according to the
Texas Apartment Association.


Most of the time, the apartment will go to whoever has the best credit report and references and whoever is most financially qualified for the apartment, without a criminal record or history of problems, evictions, etc.

Your tenant selection criteria that the manager should give you when you fill out the app should spell out what they look at, however.

The landlord, of course, does not want to open himself or herself to unlawful housing discrimination charges. Landlords cannot generally discriminate against applicants on the basis of source of income. The same goes for the property manager. But as long as they can point to a rational and consistent basis for renting property to person A rather than person B, they have a lot of latitude, and unlawful discrimination would be tough to prove. This is especially true if their reasons given for rejection are consistent with their published tenant selection criteria.

Dirty little secret: An application fee is also an effective weed-out tool for landlords. If an applicant chokes on a $35 application fee, how will that individual reliably pay the rent?

Do you have any recourse?

We checked with the
Austin Tenant's Council
, though, for some local intelligence on common practices and laws specific to the rental market in your area. According to the ATC,

"If the landlord rejects an applicant without providing the tenant selection criteria, the landlord must return the application fee and any application deposit. The applicant should send the landlord a demand letter by certified mail. The letter should include an address of where to send the application fee and any application deposit and a statement that if the money is not returned within 10 days from the date the landlord receives the letter, the tenant will pursue legal remedies. If an applicant can show the landlord acted in bad faith, the landlord can be held liable for $100, three times the amount wrongfully retained, and reasonable attorney's fees."

Neither Texas nor Austin imposes a maximum application fee, but the Austin Tenant's union says $25 to $35 is typical in that city.

Thanks for writing, and for keeping
Austin
weird!




Author Bio
Writing about personal finance and investments since 1999, Jason Van Steenwyk started as a reporter with Mutual Funds Magazine and served as editor of Investors' Digest. He now publishes feature articles in many publications including Annuity Selling Guide, Bankrate.com, and more.