My understanding is that you could try to manage your property in
Hawaii
by yourself, from another state. I'm not aware of any Hawaii laws that require property owners to reside in Hawaii to manage rental properties that they own. To be sure I'd double check with the
Hawaii Real Estate Branch
.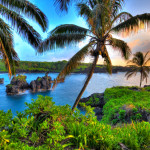 However, whether self-managing from another state is a wise decision is a different question. It is very difficult to manage property if you aren't local, or even in a different time zone.

From screening tenants, to maintaining the property, to monthly drive-by inspections, to handling emergency repair calls at 3 a.m., to evicting tenants, managing rental property is generally easier if you live within a short driving distance.

Want to Find a Local Property Manager?

There are many reputable
property managers in Hawaii
and I'd definitely consider hiring a professional property manager rather than being an absentee landlord. Before hiring a property manager check references, check in with the Better Business Bureau, and confirm that any required
real estate licensing is in place
with the
Hawaii
Real Estate Branch.


As always, the information provided here is just that–it is for informational purposes only and under no circumstances whatsoever should it be considered legal advice. If you have any particular questions or issues, please consult an attorney.



Author Bio
Author of the Landlord Chronicles blog, Tracey March provides stories and "lessons learned" from her experience as a self-managed rental property owner. She helps owners decide if partnering with a property management company is beneficial.




Latest Answered Questions
Find Property Managers Near You
Select Property Type
Single Home or Condo (Valued up to $300K)

Single Home or Condo ($300K to $500K)

Single Home or Condo ($500K to $1 Million)

Single Home or Condo (Over $1 Million)

Multi-Family (2-4 units)

Multi-Family (5-19 units)

Multi-Family (20-99 units)

Multi-Family (100+ units)

Homeowners Association (2-49 units)

Homeowners Association (50-99 units)

Homeowners Association (100+ units)

Condominium Association (2-49 units)

Condominium Association (50-99 units)

Condominium Association (100+ units)

Retail (Up to 9,999 sqft)

Retail (10,000 - 100,000 sqft)

Retail (100,000+ sqft)

Office (Up to 9,999 sqft)

Office (10,000 - 100,000 sqft)

Office (100,000+ sqft)

Warehouse/Distribution (Up to 100,000 sqft)

Warehouse/Distribution (100,000+ sqft)

Light Manufacturing (Up to 100,000 sqft)

Light Manufacturing (100,000+ sqft)

Parking Garage

Biotech/Mission-Critical

Vacation (1-2 units)

Vacation (3+ units)

Other Associations (Hotel, Resort etc.)

Mobile Home Community