Legal
Q: Can a property manager raise rent based on past rental history?
After applying for a property, can a property manager raise the rent based on past rental history? They are doubling the security deposit also. So in order to get this place I have to pay $1800 for the deposit, plus a pet deposit, and instead of the advertising rent of $850, they want $900. Can they do that? I spoke with my listing agent and other property managers who say no.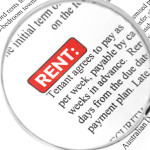 It sounds like you had some issues in the past, and the property owner or manager is hedging his or her bets based on some negative information in your credit report or a bad reference from a former landlord. In most cases, unless you already have a contract in place, and that's the reason for the rent increase and the increase in the security deposit, it may well be legal.

The Devil, they say, is in the details. But first, the general rule:

First
Want to Find a Local Property Manager?

Having bad credit or a spotty rental history does not put you in a protected class. It is quite legal for landlords to discriminate on the basis of credit history. Indeed, they would be fools not to.

This doesn't mean you won't be able to find someone to rent to you. But you can expect to be asked to pay at least a higher security deposit, in many cases.

Second

The governing document setting rent amounts is the lease. In most cases, if you don't have a lease on paper, then you have an uphill battle to prove that some other contract did, indeed, exist prior to the property manager raising the rent.

Did you get any kind of assurance, beyond the advertised price, that if approved you would be allowed to rent the property at $850 per month rather than $900, regardless of past rental history?

You could try to assert that you had a verbal agreement in place when you applied, but this would probably be a longshot for you if you don't have it in writing.

Some jurisdictions have some specific rules about maximum security deposits, and some jurisdictions are stricter than others about forcing landlords to stick with advertised prices.

Now, let's boil down to your neighborhood.

You gave us a zip code for
Jacksonville, North Carolina.
The
State of North Carolina
does set a maximum security deposit of two months' rent for lease periods longer than two months. Otherwise, the maximum is 1½ months' rent for month-to-month rentals.

As for the pet deposit, the landlord may charge a reasonable, nonrefundable fee for pets kept by the tenant on the premises. (1977, c. 914, s. 1.)

Now, North Carolina does have an unfair and deceptive trade practices law on the books, and it does cover rental property. But it takes more than an allegation of a breach of contract to make that one stick. The general rule, however, is that a public advertisement by itself does not constitute an offer.

Exception

Now, there is a circumstance that could potentially land a property manager or landlord in hot water: The landlord or manager can not jack up security deposits on certain legally protected kinds of applicants, or rents, in order to deter them from moving in, while favoring others. North Carolina, prohibits discrimination based on:


race
color
religion
national origin
sex
disability
familial status


North Carolina does not prohibit discrimination in housing against gay, lesbian and transgender individuals. Certain towns do, but Jacksonville is not among them.

If you believe it's a case of discrimination against you as a member of a protected class under North Carolina or Federal law, take a look at these two precedents, prosecuted under federal fair housing auspices:


A management team running Park Place Apartments in Boaz, Alabama had been caught trying to prevent African Americans from renting units, while making them available to whites. It took a fair amount of investigation: The Department of Justice approached the manager with a variety of people, black and white, posing as people interested in renting apartments.
Investigators uncovered a similar pattern with the owners of a rental property in New Jersey.


If you have reason to believe you were the victim of unlawful discrimination, contact your state real estate commission, you may want to discuss it with the Fair Housing Project, a Project of Legal Aid of
North Carolina
. Their attorneys can help you assess the situation and if warranted, take appropriate legal action.




Author Bio
Writing about personal finance and investments since 1999, Jason Van Steenwyk started as a reporter with Mutual Funds Magazine and served as editor of Investors' Digest. He now publishes feature articles in many publications including Annuity Selling Guide, Bankrate.com, and more.




Latest Answered Questions
Find Property Managers Near You
Select Property Type
Single Home or Condo (Valued up to $300K)

Single Home or Condo ($300K to $500K)

Single Home or Condo ($500K to $1 Million)

Single Home or Condo (Over $1 Million)

Multi-Family (2-4 units)

Multi-Family (5-19 units)

Multi-Family (20-99 units)

Multi-Family (100+ units)

Homeowners Association (2-49 units)

Homeowners Association (50-99 units)

Homeowners Association (100+ units)

Condominium Association (2-49 units)

Condominium Association (50-99 units)

Condominium Association (100+ units)

Retail (Up to 9,999 sqft)

Retail (10,000 - 100,000 sqft)

Retail (100,000+ sqft)

Office (Up to 9,999 sqft)

Office (10,000 - 100,000 sqft)

Office (100,000+ sqft)

Warehouse/Distribution (Up to 100,000 sqft)

Warehouse/Distribution (100,000+ sqft)

Light Manufacturing (Up to 100,000 sqft)

Light Manufacturing (100,000+ sqft)

Parking Garage

Biotech/Mission-Critical

Vacation (1-2 units)

Vacation (3+ units)

Other Associations (Hotel, Resort etc.)

Mobile Home Community