We found this lovely inforgraphic online and just had to share it with you! Enjoy.

Image source: MarketMakers.co.uk
These days, marketing is everything. Finding new owners and adding more properties to your portfolio is the name of the game. Yet budgets are tight, time is precious, and there is little room for error in this increasingly competitive market.
Ask yourself:
1) Are your marketing efforts recruiting new customers?
2) Are you spending your marketing budget wisely?
3) Where does the rest of the industry stand?
To help you answer these questions we recently surveyed 375 of your fellow property managers to find out what's working and what's not. And the results are in.
1) THE BIGGEST CHALLENGE FOR PROPERTY MANAGERS IS FINDING NEW CUSTOMERS
In this new world of increased competition, fickle owners, and dynamic regulation, this comes as little surprise. 84% of property managers reveal that finding new customers is the biggest challenge facing their company in the next year.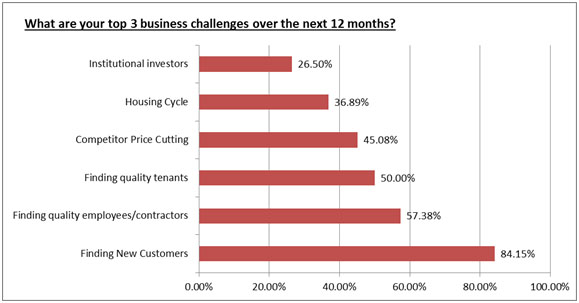 Biggest Challenges Facing Property Managers
What is surprising however is the intensity of this need. The second biggest challenge property managers reveal is finding and retaining quality employees, but this is ranked a full 26 points lower on the scale of importance.
2) PROPERTY MANAGERS FOCUS THEIR MARKETING EFFORTS TOWARDS ONLINE LEAD SERVICES AND WORD OF MOUTH
Next, we wanted to understand how property managers allocate their marketing budgets. We learned that the highest percentage (about 23%) is focused on Online Lead Services. Second is Word of Mouth, to which property managers allocate 19% of their marketing budget. Other sources of focus include Standalone Websites, Broker Referrals, and Print. TV/Radio and Social Media receive the least funding.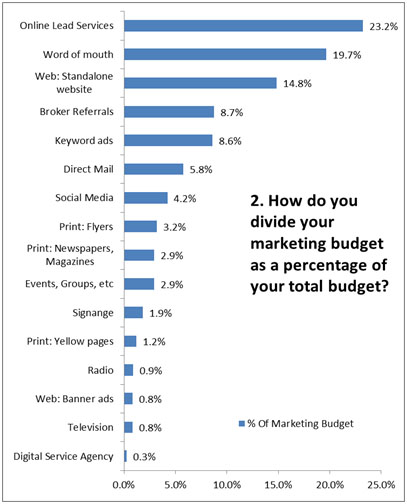 What is interesting about these responses is how little property managers invest in newer marketing channels such as Social Media, or how little time property managers spend to plan and host Events. It seems that many managers are being cautious with their resources and sticking with known channels or using methods that don?t require a whole lot of time.
3) THE BEST SOURCES OF LEADS FOR PROPERTY MANAGERS ARE WORD OF MOUTH AND ONLINE LEAD SERVICES
Property managers told us that 33% of new customers come from Word of Mouth referrals, the most of any source. Online Lead Services come in second with 20.2%. Other sources of value include Standalone Websites and Broker Referrals. Social media, TV/Radio, and Events are the least effective sources of new customers.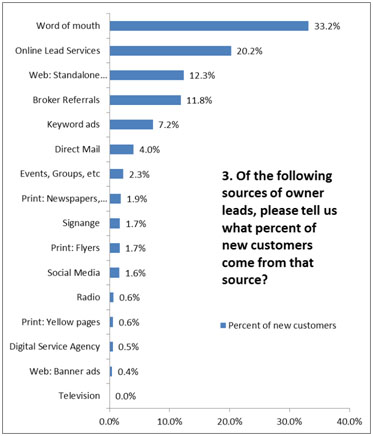 4) THE HIGHEST QUALITY LEADS FOR PROPERTY MANAGERS COME FROM WORD OF MOUTH REFERRALS
Lastly when it comes to quality, Word of Mouth and Broker Referrals received the most ratings of 1 or 2 and had the highest net quality ratings of 252 and 129 respectively. Property management companies said that their leads from the Yellow Pages, Flyers and TV are the worst quality, with the three sources having the three lowest net quality ratings. The most common response for each source was a rating of 3, as you can see on the graph.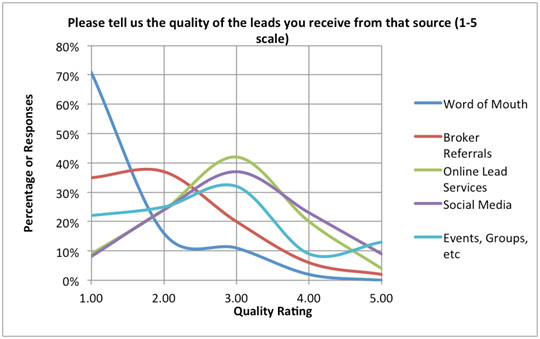 How Successfully Are You Recruiting New Customers Compared to the Rest of the Industry?
We know it's hard out there. Finding new customers and retaining them is tough work. But that's our area of expertise. Over the last 10 years, All Property Management has connected over 600,000 owners to property managers just like you, from coast-to-coast. Call us and talk to an account manager today: (855) 818-9340.
A new index shows Atlanta ranks in the top 10 U.S. cities in terms of income for residential landlords.
Compiled by All Property Management (APM), the country's largest online network of property management services, the new report's goal is to help investors make informed decisions based on current marketplace analysis. Factors such as residential vacancy rates, cap rates and annual rent increases were considered, in addition to data from the U.S. Census Bureau, U.S. Department of Housing and Urban Development, U.S. Bureau of Labor Statistics and CoreLogic.
Depicted graphically at the bottom of this page, APM's Rental Property Management Health Index found that Atlanta ranks sixth in the nation in terms of income potential for investors in residential rental properties. "The A" earned the number six spot for great job growth rate, high yearly rent increases and urban development cap rates despite mediocre housing appreciation and vacancy rates.
Rental income in Atlanta increased by a hefty 13.34% despite vacancy rates of 10.65%, showing the city's growing economy is keeping tenants in the black and able to shoulder higher rents.
Atlanta is one of the busiest real estate markets in America; the large city's population, estimated at 443,775 in 2012 by the U.S. Census Bureau, is predicted to grow by 43% by the year 2025, according to Jason Hartman of Platinum Property Investor Network.
"This massive metropolitan area attracts dozens of large corporations and industries, and thus thousands of employees who are transplants and commuters looking for Atlanta properties to rent," Hartman says. "With an exponentially growing job market and ever-increasing worldwide economic impact, the demand for Atlanta rental properties is truly astounding."
APM's Rental Property Management Health Index provides essential information to help investors assess the long-term value of rental properties nationwide, according to Steve Cook, award winning real estate journalist and co-publisher of Real Estate Economy Watch.
"Not only does the Rental Property Management Health Index offer investors a quick, comprehensive grasp of the current rental market on a national scale, it provides the type of data that should be most important from a business standpoint, like yearly rent variances and a particular city's urban development trends," said Cook. "While other tools may show near term-deals on distress sales, the APM Health Index educates investors on the potential wisdom of investing in any given market for the long term, regardless of temporary price discounts or short-term market trends."
APM's new index provides a holistic view to aid potential investors in deciding where to purchase a profitable rental property. Research indicates 65 percent of individual investors plan to purchase additional properties in the coming year, and Wall Street firms have amassed more than $10 billion to invest in an institutional asset class.
"As investors look to explore new markets, get out of current markets, or double down, the data from this index will allow them to compare various factors and weigh which ones matter most to them," said APM CEO Reggie Brown. "Good information is essential for a wise investment, regardless of the investor's size."
Founded in 2004, Seattle-based All Property Management, is the largest online network of property management services, connecting tens of thousands of property owners with thousands of licensed property managers across North America each year. All Property Management allows property owners to maximize rental investments by connecting them with professional property managers who can meet their specific property needs, from single family home rentals to multi-unit apartment complexes and homeowners' associations.