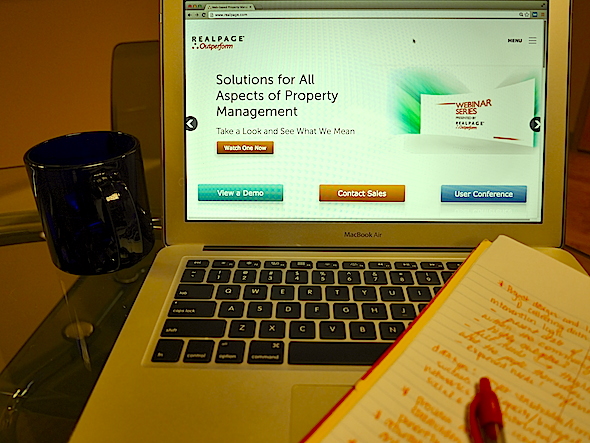 Most property management software programs help benefit property managers and their teams. It is rare to see property management software that also helps build better relationships between tenants and property managers. RealPage is all-in-one property management software that is customizable. Property managers can use the software to work with students, seniors and military housing residents. For example, RealPage allows students to find roommates, see floor plans in advance and sign lease documents online. This is a great feature for out-of-state students looking for accommodations in another state. We spoke with Katie Jones, from RealPage, to learn more.
APM: Please go into more detail about RealPage.
Katie: Within Real Page, our two main products are OneSite and Propertyware. OneSite is built for a wide range of property management companies, while Propertyware is built for more low‑density, multi-family and single‑family home management companies. Within Onesite, we offer pretty much any of your business strategic initiatives. Some of the solutions that OneSite offers are leasing and rents, accounting, budgeting, forecasting, purchasing and document management platforms.
We also work with LeaseStar and integrate it into our sales and marketing suites. Within LeaseStar you can purchase the marketplace suite or the social suite. This places listings onto different social media platforms, as well as classified and syndication services. Think of it as an automatic tool that helps you list your properties on different sites. LeaseStar can also provide website design and SEO functionality services. We also have a contact center that helps capture more leads and lease more apartments by answering all calls and emails. In addition, LeaseStar also provides a welcome home resident portal, online renewals, electronic payments and 24- hour maintenance calls, resident screening services and renters insurance.
Using YieldStar, we offer revenue and spending management, office technology reports, utility management and advanced energy reporting. Our MPF research reports provide apartment market trends to help you stay competitive with different apartment complex prices in your area. Since our work is done in the cloud, it?s important to note that all your data is kept secure.
APM: For property managers who don't really have a lot of time to differentiate between products, what would you say makes your product stand out?
Katie: OneSite is very versatile, and can work with other software, but if you want the option of using only one software, OneSite can do it all for you. We basically offer everything in one system. ?With only one subscription you get one account that offers everything rather than having to go to different websites to access different aspects of your business.
APM: Is there a specific feature that stands out to you and your own experience with it?
Katie: I think the resident portals are probably my favorite. My own apartment complex uses OneSite. I can go online, pay my rent, submit and oversee my maintenance request. There is up to date tracking, so I can go online through my own portal and see if someone read my maintenance request. I also receive questions asking for permission to enter my apartment when I am not home or notifications when someone is working in my apartment. I can submit my request in the morning, watch the progress throughout the day and come home to a fixed apartment. That's probably my favorite, the resident portal and online payments.
APM: That is a great feature. I am sure many tenants would appreciate this system to help manage their maintenance requests. Is there anything else that you would like your customers to know?
Katie: I think I mentioned the most important aspects. Sometimes we have customers who compare prices and tell us they pay $20 a month for a service, but they find themselves paying $30 for another service. Eventually, they are paying for multiple services instead of paying one fee for one service that offers multiple features. Propertyware offers several features that save property managers from using multiple software.
To Sum It Up!
RealPage offers several services including Onesite and Propertyware to help property managers oversee their day-to-day affairs. Property managers can manage several different property types, work with diverse tenant groups and handle office management affairs like accounting. RealPage's list of features gives property managers the ability to manage their properties from one location instead of needing to use several different property management tools.
Like this article? Check out other similar articles with information on technology resources on our Property Management Tech Tools Resources Page!?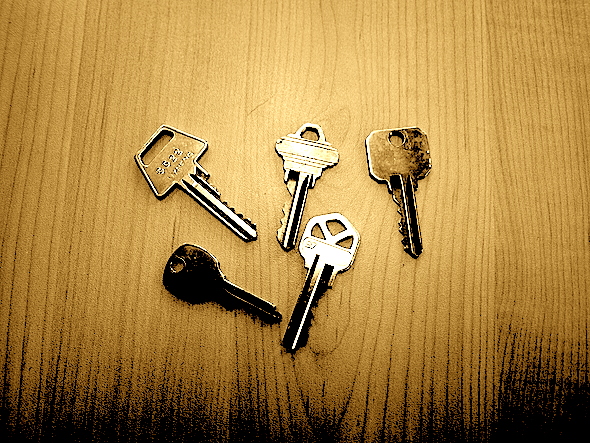 You probably heard about the multiple health benefits of the new "it" health food, Goji berries. Goji berries are known as the super-fruit with powerful antioxidants, protein, iron and many more benefits. Like the berry, Goji Smart Lock is the new and improved way to keep your home safe and secure. Not only do homeowners benefit, but property managers can now escape the hassle of replacing door locks, track maintenance and elevate property status with these new intelligent locks. We spoke with Gabriel Bestard-Ribas, from Goji, to learn more about the product.
APM: I was going over your website and I'm really fascinated by this. If you wouldn't mind telling me more about "Goji". Am I pronouncing that correctly? Is it "Goji"?
Gabriel: Yeah it is. Are you familiar with Goji berries?
APM: I am, yes.
Gabriel: In the same way a goji berry keeps you healthy and strong, our lock keeps your home secure and protected. It is the same concept.
APM: Great, I love that.
Gabriel: Thank you. We actually started building Goji a little over two years ago. Our aim is to bring a new level of confidence and control over home access. Some of the issues we see are people give keys to someone but do not recall what happened to the key, they are unaware of where they placed duplicate keys or they did not know if someone was in their home while they were away. There was absolutely no control over all of that. We built a product that allows you to be secure and have control over your home access.
We do this through information, and nothing is more powerful than the image of who is coming to your home and when they are coming. It is really about having the ability to manage who you give access to and when you give them access. You also can confirm when someone is walking into your home and when they leave.
APM: Are there products like these already? I haven't really heard of technology like this.
Gabriel: We are the first smart lock to come to the market that actually takes pictures of every one that comes to your door. The concept of smart locks started because people did not want to worry about their keys. Keyless entries with keypads are the first step. There are other mechanisms too, but it is really about bringing the keys to the phone.
Everyone is focused on the access without a key. However, people also want a new level of control over their home access. Giving out the keys and accessing the property with the phone is a nice step, but there is still a sense of uncertainty about only receiving a text that tells you a certain mobile phone entered the door. This information still does not provide a sense of security.
That's why we added a camera and other features on our smart lock. For instance, if anyone knocks on your door, the lock will send you a picture of who is at the door. This allows you to open your door anytime remotely from anywhere in the world. Or if you want to play opossum and pretend you are not home, you can do that too.
But the point is, you do it knowingly. Another thing we realized is that when developing smart products for the home, we tend to think that there is only one single type of user. However, homes comprise of several different dynamics. For example, not only will parents be using the lock but this technology affects children too.
We devised a lock that you can manage with your mobile phone but also with a mechanical key bypass. We also offer a key fob. What separates the key fob from others is that it is blank.
You program the key fob with as many keys as you want using your mobile phone. This gives a great level of freedom. You no longer need to worry about anyone burning a new set of keys
APM: We actually work with thousands of property managers nationwide. I think new technology is something that a lot of people are always interested in, but they don't necessarily have the time to go out and do the research on their own. I am wondering, do you feel like this would also be something that would be really benefit property owners who are looking to lease out their homes?
Gabriel: Oh, that's actually a great market for us. We get a lot of attention already from property managers because the main issue is managing keys, changing the locks and how you get the keys to the people trying to see or move into the homes.
With this system, you have flexibility to be able to manage all these cumbersome and expensive aspects. For example, if someone forgets the key inside, since the lock is WiFi connected, he or she can knock and the property manager can remotely open the door from anywhere in the world.
This is a level of knowing what's going in your house that did not exist. Cleaners, for example, need to coordinate when they arrive and leave. Now you can create keys for the times and dates that they are coming and going and check to make sure the cleaners arrive during those times. You can also make sure the right person has access and you can note the length of time they spend in the unit. We are also talking to property managers for large apartment complexes. These property managers see the benefit on two levels. One, our product design is unique and can be considered a lifestyle product and adds value to the apartment complexes. It also creates a new level of convenience for property managers given all the features it provides.
APM: I can see how this benefits property managers. I think just the whole aspect of not having to replace the keys and locks all the time, or like you mentioned, knowing when people coming in and out of the building for maintenance issues is a really big advantage. This feature doesn't come out until June 2014, is that correct?
Gabriel: Yes.
APM: If people are interested in the product they can just do an advance order?
Gabriel: Exactly, and we currently offer discount pricing.
APM: Great, is there anything else you would like potential customers to know about the product?
Gabriel: Just a few logistics, Goji is a dead bolt lock that fits in the same whole settings as your current dead bolt, there is no need for any other manipulation of the door. It is a very simple to install and takes 10 to 15 minutes to pair and get started.
It's one lock that you can pair as many locks through your own mobile application and manage multiple locks all through your phone.
To Sum It Up!
Goji Smart Lock, like the berry, is a powerful tool. This keyless technology helps keep your home safe and secure. Property managers can give keyless access to their properties, monitor who is coming or going to the property and use the visual aid to track all potential tenants or vendors. This smart lock is officially available this summer and new features are currently being added.
Like this article? Check out other similar articles with information on technology resources on our Property Management Tech Tools Page!?
Recently, a friend of mine signed a lease for a new apartment. Moving causes many emotions, including the excitement of living in a new place. My friend however, did not measure her living room correctly, and she ended up ordering three different couches because the first two did not fit into her apartment. Property managers see this situation happen all the time. They also see all the damages on the walls as a result of this situation. Sweet Home 3D is a free interior design application that helps solve this problem because users can draw the plan of their property, arrange furniture and insert doors, windows and walls. From there, the user can see the results in 3D. I spoke with Emmanuel Puybaret to learn more.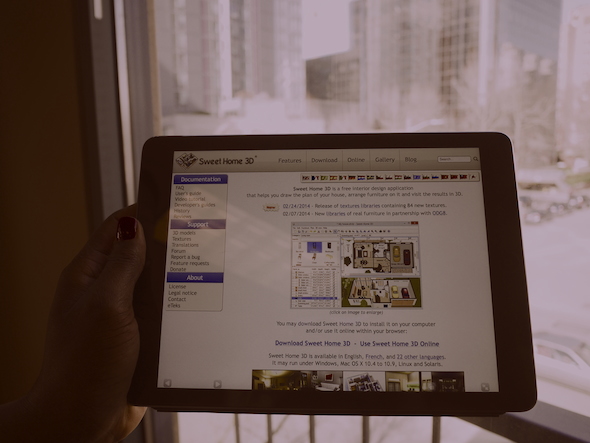 APM: Please describe the product in more detail.
Emmanuel: Sweet Home 3D is free software designed to draw the plan of a home in 2D, arrange furniture on it, and produce the results in 3D. Sweet Home 3D is aimed at people who want to design their interior quickly. Sweet Home 3D is available in 24 languages and may be run using Windows, Mac OS10.4 to 10.9 and Linux.
The user may:
- draw walls and rooms of their home, from scratch or upon the image of an existing plan
- change the color or the texture of the walls, the floors and the ceilings
- import images of your own patterns
- drag and drop doors, windows and furniture onto the plan from a catalog organized by categories
- import both self-created 3D models and models downloaded from web sites like Trimble 3D Warehouse
- customize the size, the orientation, the elevation, the colors and the textures of each piece of furniture
- view the changes in the plan simultaneously in a 3D view
- images can be navigated from an aerial view point or from a virtual visitor view point
- create a photo-realistic image of an arrangement depending on the time of the day and the light sources placed in the plan
- create a video from a virtual path in the 3D view
- print the home plan and the 3D view or export them in PDF, PNG, JPEG, SVG, OBJ standard formats to be able to reuse designed homes in other software
APM: What made you develop your product?
Emmanuel: In 2005, I started to write a book about Java/Swing programming and was looking for a cool study case that would show how to use Swing in an open- source project. Initially, I wanted to discuss a RSS/Atom reader. I realized there already was a lot of software in that category, and the book wouldn't be that original. Then, I unburied this old fun idea I had about programming interior design software. I divided the basic features into eighteen scenarios and explained the first ten in the book. Once the book was published, I developed the other scenarios before releasing Sweet Home 3D version 1.0 in mid-2007.
APM: What makes your product stand out?
Emmanuel: Users appreciate the ease of use. The main idea of Sweet Home 3D is to draw and handle modifications in 2D, and then show real time results in 3D.
APM: For property managers who do not have a lot of time to differentiate between products, why does your product stand out from the competition?
Emmanuel: It's free, regularly updated and there's a community behind it ready to contribute, help and listen to suggestions.
To Sum It Up!
We learned through a Sweet Home 3D thread that one customer went through the traumatic experience of losing their home to a fire. However, the house is currently being re-built and the user expressed his gratitude on being able to use the app to help design his new space. Sweet Home 3D gives a tenant the ability to arrange furniture in their apartments. Property owners can also benefit using the application when remodeling their homes. Property managers can recommend this free application to both their property owners and tenants.
Like this article? Check out other similar articles with information on technology resources on our Property Management Tech Tools Page!